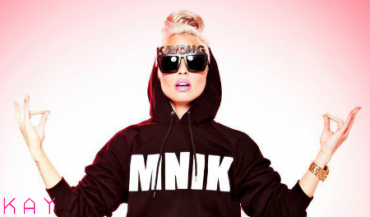 Her name is
Kay
-ay-ay-ay-ay-ay, and get it right people, because you're going to be hearing a lot of her from now on. The young up-and-comer from Canada brings to mind a bit of Robyn mixed and a dash of Dev, with a heaping dollop of something special all her own. The blonde electro-rap babe, signed to uber-cool label Cherrytree, very recently debuted her new EP,
'My Name Is Kay,'
and it is an eclectic mix of electro, pop, rap, and hip-hop, with effortless swag, dope electronic beats, and bratty lyrics that beg to be sung along with.
The Canadian cutie is blowing up in her native nation, and will certainly be hitting the mainstream airwaves soon with her signature radical, radio-ready sound. If you like your beats a little funky, your lyrics chock full o' attitude, and your music fresh and fun, then Kay is your girl for sure. Check out "
Strangers
," featuring Pusha T, below for a taste of her electro-hop swag:
Strangers (feat. Pusha T) by My Name Is Kay
And check out the video for her infectious hit "
My Name Is Kay
" below, which showcases the singer's personality in a big way:
Visit Kay on Facebook
here
and stay tuned for more!