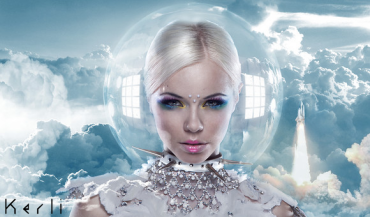 While we've been a fan of pop artist
Kerli
for many years now, well since her '08 pop-rock debut, it was the release of her killer dance-pop buzz track "Army Of Love" in late 2010 that had us hitting the replay button over and over. With sparkling electronic synths and infectious beats, it seemed that the Estonian bubble-goth princess had made the exciting transition into electro.
Now, with the upcoming release of her industrial-ethereal lead single "
Zero Gravity
" which has just appeared online, as well as the forthcoming release of her highly anticipated electronic-tinged sophomore album, it seems that Kerli is gearing up for the synthy switch - as well as arming herself with nothin' but love.
We recently had the chance to speak to the bubbly and candid artist about her incredible new single, her upcoming video, and sophomore album. We spoke about her mystical and mythological influences, creating her own DIY couture for videos and shows, what the vibe was like while working on her upcoming album, and so much more!
Moonchildren, prepare to take over the universe and check out the in-depth video-interview* below to hear what Kerli has to say:
(*Please note: Because the length of the interview is roughly 40 minutes, I had to upload three separate clips. They are available to auto-play through in the playlist widget below.)
Visit Kerli online
here
for more information.