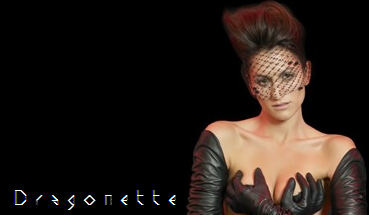 A few weeks ago, I was able to have a little chat on the phone with the lovely Martina of Dragonette, who are busy on tour supporting their new EP and hot new singles right now. Find out below what Martina had to say about their Kaskade collaboration, Madonna, and Dragonette's next album!
E: Hi, this is Erica with Electrocutie Music Blog!
M: Hi, this is Martina!
E: Hi, Martina! Thanks for chatting with me. It's nice to meet you, sort of.
M: [Laughs.] Same here!
E: So where am I catching you guys right now?
M: Um, we're in Toronto right now, at a rehearsal space.
E: Oh, okay, awesome! Do you guys have a show tonight…?
M: No, we don't have a show tonight, but we are heading to Ottawa on Wednesday and then to Lollapalooza the day after.
E: Oh, right! That's going to be awesome. Okay, so I've got some questions for you, so if you're ready let's jump right into in 'cause I know you guys are very busy. And I'm not surprised you're all so busy - you guys have so much going on right now! The new EP is coming out, you just released "Our Summer" and "Volcano" as digital singles, and then you guys are going right on tour. Am I missing anything?
M: Nope! Sounds about right!
E: So this sudden surge of all this activity, these releases and shows, was that a conscious move for you guys or did it just kind of happen that way?
M: Um, I think it just happened that way! I mean, I guess it's kind of good to time something to come at a specific time, especially right before a tour.
E: Well, it's definitely a good time because you guys will have some cool new material that fans will be able to rock out to at the upcoming tour.
M: Oh yeah, you want everyone to learn the new songs before you play them live so everyone can sing along with you.
E: Sure! There's nothing worse than people just standing there.
M: [Laughs.] Well, the new songs have been going over really well with everyone!
E: Speaking of which, what's on the upcoming EP, 'Mixin' To Thrill?' I know there's some remixes…
M: Oh, there's three previously unreleased tracks, and then a few cool remixes. Five or six, maybe more.
E: And what's the story behind the album cover? I know there's an artist you work a lot with…
M: Oh yeah, it's great! That cover was kind of inspired by this 70's album cover that I recently saw, and I basically designed it to be like that with the help of Rich Andrews. He has really connected with us.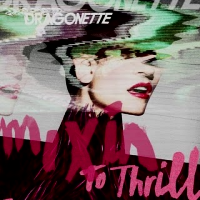 E: It's beautiful. I know you guys are really big into the visuals that go along with the touring and merchandising, and you yourself have such a unique fashion sense, so I was wondering how all of that ties into the music. Is the overall image very important to you? It seems like strong visuals are very important in this genre.
M: Well, I think that I'm as much a visual person as I am a sonic, musical person. The thought of working so hard on making a great song and making a message and recording something the way you want it, without putting any thought into what visuals will work with it, whether it's a video or the styling or the artwork or whatever, just doesn't make sense to me. I could never just, like, hand that over to somebody and be like, "Yeah, do something, whatever!"
Read the rest of our interview after the jump, below!
E: [Laughs.] Right, right.
M: Yeah. I mean, when you're spending the time doing something like that, I think it would be careless of me to just let something happen that I'm not involved with 'cause, inevitably, no one else really will have spent enough time with the music.
E: So you guys are really involved with everything and you guys have a lot of control over the music and image and the style, then.
M: Yeah, definitely.
E: That's really great, 'cause a lot of artists don't get that sometimes and I think it's really important to the fans to know that the person or people they're listening to is that invested.
M: Well, I don't think it's necessarily a bad thing if the artist isn't involved in the visuals. I think some people are just really musical but not visual, or the other way around. I think Madonna for instance is much more visual than she is musical, but it doesn't make her a bad package. She is still doing something important, and I think that for other people who are more musical, that makes for other amazing packages as well, other amazing artists. I just happen to fall somewhere right in the middle.
E: No complaints there! Now, do you guys have any music videos coming up for the new singles or for anything off of the upcoming EP?
M: Um, no, there's no music videos for any of that in the works just yet, but we'll see. We'll see what happens. I mean, our video just came out for the song we did with Kaskade.
E: It's a great video, by the way. How exactly did that particular collaboration come to be? Are you guys friends with them or…?
M: It was kind of, like, just out of nowhere. [Laughs.] A lot of them are. But yeah, I think we both kind of know about each other and respect each other, and when the topic comes up it's like, "Yeah, for sure!" And yeah, it was a really fun project. I loved the song when he sent it to me. It was such a tough, interesting track.
E: You guys are about to embark on the summer tour now. What can fans and concert goers expect at these shows? Are you guys going to do the new songs? Is there going to be anything in particular visually?
M: I think hopefully we'll be playing the new songs and we'll try to make it feel like it's a party for you. But beyond that we kind of focus on the music. I think that we haven't gotten to the stage where we are able to go overboard with the visuals but we try do it nice, make it look pretty. [Laughs.]
E: You guys have all this going on… Are you even thinking about the next album yet?
M: Yeah, sure! Yeah, we are getting into that mode. It's still kind of daunting. We're just starting to… you know, we're putting little snippets down and making mental notes.
E: Will the sound keep going in the new-wave, electro-pop sound you have now?
M: I think with the direction… I think we kind of turned in this direction of incorporating these acoustic instruments. You know, trying to make dancey-feeling songs with some more, like, earthy tones and existing sounds, and I think that's still really interesting to us. We're trying to capture these real- well, it's not totally forsaking the synthesizers and the electronic sounds, but trying to make a hybrid I think. And we're challenging ourselves with that, which is fun.
E: That sounds amazing! And quickly back to the collaboration with Kaskade… Do you have any other collaborations in the works you can talk about?
M: Um, yeah! I have some going on. Um, but I don't like mentioning them because sometimes they don't- well, you finish the song but it doesn't end up going on and people are like, "Oh, I heard you did this?" And it actually never happened. [Laughs.] But I am pretty confident that it will be coming out within the next 6 months and I'm really excited about it.
E: Well, we can't wait. Is there anything else you'd like to say to the fans before we wrap up?
M: Um, I don't know! [Laughs.] Buy the new songs and come out to the shows!
E: Fair enough. Well, thank you so much for talking and good luck with the tour!
M: Thank you! Bye-bye!
Thanks much to Martina of Dragonette, their management, and Samantha of High Rise PR for arranging the interview! Be sure to check out Dragonette on their electric summer tour (which is indeed an incredible party, for the record!). 'Mixin' To Thrill' EP is out now! Visit Dragonette on MySpace here
.