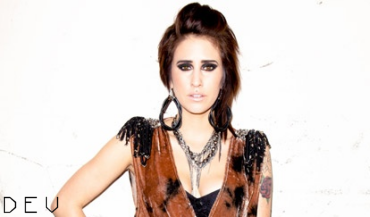 A few months ago I had the chance to chat it up with Dev, currently known around the world for that infectiously sexy hook in the Far East Movement hit single "Like A G6," and much like her musical peer Kesha, who was known before her iconic "Tik Tok" days as the memorable and mysterious female voice in Flo Rida's 2009 smash "Right Round," Dev is about to launch into superstardom in her own right. Check out below what Dev had to say about working with her best friends, The Cataracs, what to expect from her upcoming electro-pop album, and how she went from Garageband to "G6!"
E: Hi, Dev! This is Erica with Electrocutie Music Blog. How are you?
D: I'm good, thank you! I'm actually in Los Angeles right now.
E: So, why don't we start with a little background information. What is your story, so to speak?
D: Sure! Well, my real name is Devin and I'm 21 years old. I grew up in Manteca, California, which is like central, northern California. I started music about three years ago when I posted a song up on MySpace that I made on GarageBand on my MacBook, and it was found by The Cataracs! So they called me up and said, "Dev, you should come and record with us, we love your sound!" Fast forward a little bit, I decided to keep recording, leave school, and quit my job and move to Los Angeles with The Cataracs so I could continue my musical dreams. Then we did "Like A G6" with Far East Movement. And that's kind of how that all happened!
E: Wow! So you have come a long way from GarageBand, that's for sure.
D: [Laughs.] Yes, I owe it to GarageBand.
E: Now, don't you have like three songs or something on the Billboard Hot 100 chart right now?
D: I do! It's so exciting and I actually forgot, so thanks for reminding me. It's amazing, absolutely amazing. Being part of that whole process of having those three records on the Billboard charts is pretty dope.
E: Congratulations! That must be a really huge moment for you.
D: It was. It was absolutely insane. I have some favorite artists who I remember talking to about the situation and them going, "Yeah, I've been on the Billboard charts six times in my whole career," or whatever, and so to have my name on three songs on the charts all at one time is pretty badass!
E: Now, from what I've heard, your upcoming debut album is called 'The Night The Sun Came Up.' Is that going to be the title of a song or does that title have any special significance or meaning to you or for the album?
D: Sure! My whole album is filled with a bunch of little stories about me and The Cataracs, and I got to sit down with the boys for three weeks in Costa Rica and really concentrate on all the things I wanted to get across and all the things I've been through during these past three years. I definitely wanted the title to reflect the stories. I didn't just want it to be one word. It actually took me a really long time to come up with the title. I was such a girl about it! [Laughs.] There's so many things you do at night until the sun comes up - you could be reading a book or you could be popping champagne!
E: I love it. I think it's such a cool title and can really speak in different ways to a lot of different people. You've kind of made your own special little nook in the music industry - you've molded hip-hop, electro, rap, pop, and so many things together to make your own unique concoction. Do you like to experiment with different types of music and themes?
D: Yeah, I really do actually! And on this album me and The Cataracs really play that up. There's a lot of different textures and tempos. There's some parts on it where I'm just singing with a guitar and other parts where I'm rapping and it's very hip-hop influenced. There's some dance stuff in there as well! I definitely like playing with different elements and sounds. I grew up with a bunch of different music and it was important to me to fit all that onto one album, to not just have one sound, but to show that I enjoy doing a little bit of everything.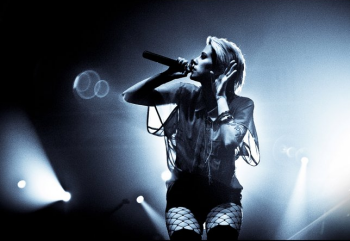 E: Speaking of influences, who or what kind of styles of music have inspired you while making your album?
D: Well, going into the album, it's not like I'm listening to anything in particular that sparks stuff. It's maybe just a little bit of a mixture of what I grew up listening to. I have my favorites like Nirvana, Eminem, Yeah Yeah Yeahs, Brand New, and I listen to a lot of Bay Area rap from Northern California. And The Cataracs, they have their favorite rappers, and one of them really likes the Beatles. So that was more important to us. It wasn't one specific thing. It was just the fact that we wanted to take influences from many different genres.
E: I feel like the album is going to sound really cool that way, and have many different sounds. So The Cataracs are producing the album?
D: Yeah, it's being produced by The Cataracs and some of it is featuring The Cataracs as well because there's one or two songs I have them on. So it was important to me to keep all that within our little crew, because they found me, you know? So it's our sound together.
E: That's so cute! So you guys must be good friends then, no?
D: Yeah! [Laughs.] We lived together for a year and a half. We actually just moved out of our loft downtown. They're my best friends. They know me pretty damn well. It's cool when we go into the songwriting process and recording process because I get to work with these two people who, through the past three years, have become my best friends. They know me so well. A lot of artists are found and just placed with producers and meet for the first time and go into the studio with them. But I get to go into the studio with people who are my besties, and it works out!
E: I love that. I think it's amazing when artists can work with someone who they're friends with, or know, or familiar with, cause I think it adds a level of personal meaning to the music. Would you say that?
D: Oh, for sure! When I first started doing this stuff, the whole writing and recording process was so weird for me, 'cause I didn't have to be very personal or vulnerable and it was all new to me. But it's cool now because we've grown together these past years and I feel great sharing my stories and feelings with the boys. And they know me so well that the vibe is always so perfect in the studio.
E: And that must make it really comfortable for you, too, when writing lyrics especially.
D: For sure, it's great. It's super comfortable.
E: Now, a little off topic, but I wanted to ask you about your sense of fashion. I noticed you have such a cool sense of style in your videos, photo-shoots, and at shows. So what is your sense of style or what influences that for you?
D: I work with and am best friends with this brand called Hellz Bellz, and they style me and fit me for pretty much everything, even when I'm shopping - you know, during the little time I get to shop, I shop with Lanie, it's her line - and they style my videos like "Booty Bounce," and all my shows, and that's kind of my thing. So shout out to Hellz Bellz! And you can visit them at
Hellz-Bellz.com
!
E: I love Hellz Bellz! Anyway, back to the music: Do you know when your debut album is due out?
D: Well, it's coming out in the summer! Summer time for sure, that's when you can check my album out.
E: Do you plan on going on tour in support of it?
D: Yes, I have a few tours lined up right now, though I don't wanna speak on them just yet. But I will definitely be touring around all over the place for this album. So if you want to come out, definitely check out my Facebook and Twitter. That's probably the easiest way for people to keep updated with that. I'm on Twitter 24 hours, 7 days a week. [Laughs.]
E: What is a typical show like for you?
D: For new shows I usually play like 30 minutes. It's a 30 minute straight mash-up of all my songs, and I like to mix it up sometimes and do something different so I'll throw some songs by other people in. But it's usually 30 minutes of all Dev! And I pop champagne and confetti, and if it's a club show, it's usually 15 minutes of all Dev.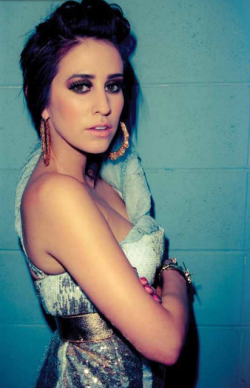 E: That sounds like so much fun.
D: It is so fun!
E: Your show must be a big party. Lots of energy…
D: It's really cool 'cause it's high energy for sure, and popping champagne - everybody loves that - but I do have moments where I get to sort of be very girly and just sing. So it's kind of fun, too. I get to play around with stuff like that.
E: I know right now you have a lot of party songs out like "Booty Bounce" and "Bass Down Low," but I sense more depth to you also. So can we expect some ballads on the album?
D: Oh yes, of course. I guess a lot of people just see me as this person that just sings songs like "Like A G6" and "Bass Down Low." And that's totally cool. I love those songs and I love making them. But I'm really excited for everybody to hear the album and hear that I do have a heart and I have feelings and that I can really sing. Yeah, I'm really excited for everyone to see that other side of me.
E: Actually, I've listened to your song "Killer" on YouTube and I hear so much depth to your voice and you're a really skilled vocalist. And I think it's going to be a great surprise for people to hear that singing skill on your album, as opposed to your rapping style, which is great too, of course.
D: Thank you! Me too! That means a lot to me that you say that. That's definitely an important thing I want to get across, so thank you.
E: Yeah, you're very welcome. Now, I've heard you get compared to different artists a lot, and I'm not going to name who because to me it's a little annoying. But I feel like it happens too often to female artists where the industry likes to clump them together and not accept them as individuals. Why do you feel this happens?
D: I feel like while it's the industry doing it too, I think it's really more that the people and fans in general are doing it because I think it makes people feel comfortable. They don't feel as scared to just want to embrace something new. I think that society as a whole would rather be like, "Oh, it's okay! Cool! We can play this, we can check this out, because it sort of sounds like this." It's just that comfort level because, well, everybody wants to feel comfortable, and I think that's where it comes from. It's just easier for people to sort of, you know, compare. It's all good! They're gonna do it. I mean, I do it. I really can't hate on people who compare artists 'cause I do it just as well. But you know, I also don't want to be compared too much because I am my own individual, but it's all good.
E: You have such a great attitude! It's so refreshing and so positive. Speaking of your music, I hear so many different influences and styles in your sound, so what I want to know is, from your perspective, how would you describe your music?
D: As of right now I'm in a place where I really can't. I like to play around so much that I change my mind every day. I think that's what's fun about what I do. And maybe I can't place the album that I'm making into one genre, but I'm okay with that.
E: Today I think people are a little more open to exploring new genres of music or mixing different types of music together, so as an artist, it must be really cool to be able to do that.
D: Oh yeah, for sure. Definitely. It's fun as an individual to be able to play around like that.
E: What can fans expect to hear from your new album?
D: People can expect to hear a lot of stories about everything like leaving my family to do this, leaving my comfort zone, and just personal stories that have happened over the past three years. I'm really excited for everybody to hear it and have a good time with it. It's definitely very youthful, I feel, 'cause I'm 21. I wanted it to be serious and lighthearted at the same time, and maybe a little bratty as well I guess. [Laughs.] Fans can expect a little bit of all of that.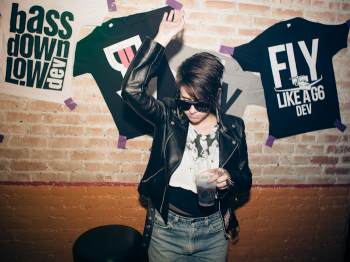 E: It sounds very personal and honest.
D: Yeah, well, it was great because the music was something that I shared with The Cataracs on this close level and I couldn't have asked for better people to share that experience with. It really took me to an amazing place and it gave me the opportunity to travel and spread my music and get to do everything that I've gotten to do as a recording artist. It was great to sit down in Costa Rica with The Cataracs and get to focus on me and write down my feelings. And some of the songs are really fun and some of them are still really personal and I definitely got the time to get that across. Also it was good to spend that time with The Cataracs because even though they found me and collaborated as producers, there was a time when we didn't get to work together too much because they were so busy and I was so busy touring, so it was definitely the time to sit down together, and just have our time, you know?
E: Right, of course.
D: And I think you'll hear that on the album. It's very "Dev," and also very "Cataracs," because they did produce it. I think everybody is gonna have a good time with it, I hope. That's the whole goal. And even if they don't, I had a good time! [Laughs.]
E: That's all that really matters. Also, I think a lot of people right now just know you as the "G6 Girl" from when you first came out, and it's going to be really cool to finally be like, "No, I'm not just the 'G6 Girl,' I'm Dev," and share that with everyone.
D: Exactly! [Laughs.] It's definitely been a cool thing being the "G6 Girl," and maybe when I'm 40 I'll be able to say, "Hey! I was the 'G6 Girl!'" But hopefully I'll be recognized as Dev.
E: Speaking of "Like A G6," when was that moment for you when you realized how huge that song became?
D: I had that moment the first time I heard it playing in the car on the radio. I realized that this song might change my life… Which it did!
E: So, you went from GarageBand to "G6."
D: Exactly! [Laughs.]
E: What's your ultimate goal as a recording artist or where do you see yourself, ideally, down the road from here?
D: You know, I'm just taking it day by day. I'm just letting it happen. So far it's been a fun journey and hopefully I'll keep continuing to grow, but I don't really wanna put too much pressure on the future. I think I'm having a really good time and discovering who I am as a woman and an artist, and hopefully good things come out of it. I guess that's the only way I want to look at it. I don't want to put pressure on anything.
E: That's a really great attitude. Is there anything you'd like to say to your fans as we wrap up?
D: Um, yeah! Keep a look out for the album, and thank you guys. I appreciate all of them, and they're hot, and I love them! [Laughs.]
E: Thank you so much, and good luck with everything!
D: Thanks so much. Goodbye!
Thanks so much to Dev, her management, and to Myisha for arranging the interview. Stay tuned for more information on the upcoming album and new music video coming out soon. Please visit Dev online here and on Facebook here. Also, visit The Cataracs online here.