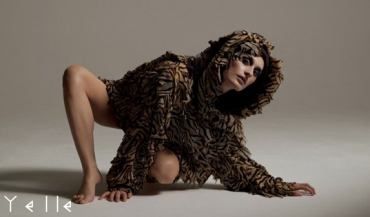 A few weeks ago I was able to arrange an interview with my favorite French electro-pop artist (and band) Yelle in order to chat about her upcoming sophomore album, 'Safari Disco Club,' due out March 29th. Check out what Yelle had to say about the sound of her new record, her thoughts on the French music "scene," and why her music seems to transcend language barriers, below!
Hi, Yelle! Thank you so much for taking the time out to chat with Electrocutie! First things first, I hear you guys finally just wrapped up your sophomore album. What kinds of sounds and themes can fans expect to hear on this new record when it releases?
The new album is named
'Safari Disco Club'
and will be released March 29th in the US. It's a musical safari! I mean, it's 11 songs, all different, but in a same mood; a mix of happiness and melancholy, fun beats and harmonies, dual taste, hot and cold all the way!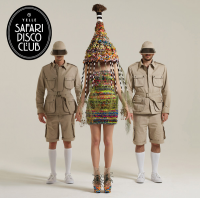 What are your current inspirations for the new album?
After being almost 3 years on tour and having met a lot of people, discovering countries, culture, and music, we took the time to rest a little bit at home. All of those things we have lived through are inspiring! So it's an energy between that fade out, after the tour, and that fade in... can't wait to go and play again! Melancholy and dance - yes!
I've noticed a slightly more edgy, maybe even darker electronic sound to your new single, "La Musique." Your debut album 'Pop Up' had a very bubbly, upbeat sound throughout. Will the new material retain that more "pop" sound or can we expect some darker electro as well?
'Safari Disco Club'
is definitely not a dark album, but for sure it's more complex. It's a bit deeper, and that dual taste makes it more interesting, as if you could choose the mood you want to listen to or dance to.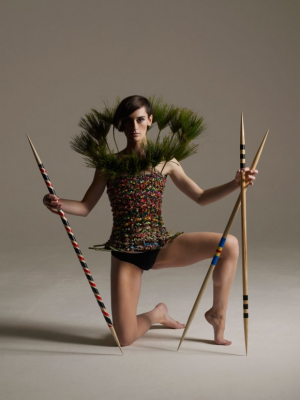 When did you begin getting into electro and why did you decide to become an electro-pop artist?
GrandMarnier and Tepr compose the music on computers, with synthetizers and samplers, but really our music is pop music. It's all about songs. The way we make them is electronic, but it could be made with banjos! Electronic yes, because we use electronic stuff, but we don't feel like being part of a scene.
What is the French music setting like currently and how has it helped, if it all, shape your own music?
The only thing we can underline is that we released our first album at the same time as bands like Justice and others, so it was easy to talk about a French scene for the press to understand. But again, we are not really part of a crew so to speak. Many french bands are from the same generation, so we might have some common tastes and ways of thinking, but that's it I think!
Read the rest of our interview after the jump, below!
Are you guys planning to go on tour in support of the new album? And most importantly, will you be returning to the USA?
Yes for sure, there's so many shows announced! Check out the "Rendez Vous" on our web site,
www.yelle.fr
, or on the "Events" section on our Facebook page
here
. We have 28 shows in the US this coming spring, starting with Coachella!
(See below for dates.)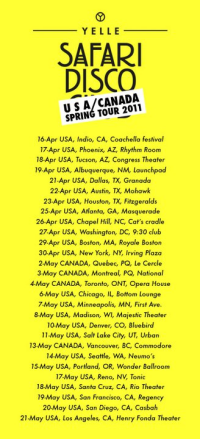 As an artist, both musically and visually, you have a very unique personal style! How does your sense of fashion and style play into the aesthetic of the music?
Thanks! Well, we love music, but we love design and fashion too, so it is natural for us to be involved in that. It's so natural for us that it has to match and be creative, and it's great to meet people like Jean-Paul Lespagnard (who designed the new safari-inspired outfits) to work hand in hand on something, like we did on
'Safari Disco Club!'
Did you ever imagine, back in 2006/2007, that after the release of 'Pop Up' you would receive so much international success? How has that felt to achieve so much popularity not only in France and Europe, but also abroad in places like the USA and Japan?
Nooo! We never could have imagined that! It has been and it's still a surprise, and it's great! It's all about the energy. It's very healthy and beautiful. It's like when I was younger and I was trying to sing over songs in English without understanding a word - but I loved it!
Thank you so much, Yelle! Is there anything you would like to say to the fans before we sign off?
Mmmh! Listen to the new album very carefully. We made it with all of our love and passion, and the fans are part of that!
Thank you so much to Yelle, her management, and Laurence for setting up the interview! (And as an aside... Thanks Yelle, for releasing this amazing album on my birthday on 3/29, ha ha!) Please visit Yelle online right here and stay tuned for more information.