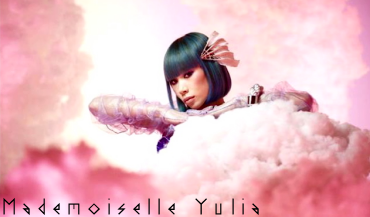 With her neon blue Cleopatra bob and a highly sought-after accessory line, Japanese fashion icon Mademoiselle Yulia is a stylish force to be reckoned with. But Mademoiselle Yulia is not just a fashionista - she's a celebrated club DJ and electro artist in her own right, with two compilation mix albums ('Neon Spread') already out under her own name! Recently, we had the chance to chat with her about her fashion and music (both of which are very intertwined). Read below to find our what this Japanese electro-pop princess had to say about her eclectic sense of fashion, those pesky comparisons to Lady Gaga, and her exciting upcoming album!
Hello, Mademoiselle Yulia! Thank you so much for taking time out to chat with Electrocutie. We just love you! We'd love to know, what is inspiring you right now, both musically and fashion-wise?
Fashion and music is always synchronized for me, and it is inseparable. I am interested in 40's-50's movie-style and inspired by actresses' hairstyles and fashion, and also music. And I have always loved the music and fashion of the 80's, too! Right now, especially fashion-wise, I am collecting vintage Moschino and Thierry Mugler outfits. Musically, when I am DJing, I get inspired by Balkan music, but its not really about fashion then.
What really inspires you when you are putting together an outfit?
It depends on the feeling I have and what I see now, but basically I love Thierry Mugler's vintage stuff and KTZ. As for shoes, Louis Vuitton's '09 S/S Collection is my treasure.
Right now, what is your favorite piece of clothing or accessory in your wardrobe?
My own brand, GIZA, and vintage costume accessories found in the market.
How do you think the Japanese street fashion scene in Tokyo compares with that of other fashion hubs around the world? What sets Tokyo fashion apart from the rest?
I think Tokyo people are always conscious about being watched by someone. It's a good thing and a bad thing because that consciousness is making people catch up with the trends (Japanese people love trends!) and I think that's what's making Tokyo different from others, a sort of self-consciousness. And some people are self conscious but can't express it verbally, so they use fashion as their self expression method.
You are an amazing designer yourself. I absolutely adore your Giza line. What are you current influences for when you are designing lately?
Thank you very much! When I see some great works of the past, I feel like making that kind of stuff, but I don't like to be influenced too much, and I want to express my inner inspiration in my creation. So architecture, scenery, and any commodity such as toys can be my origin of inspiration, and I start making a sample by my own hands.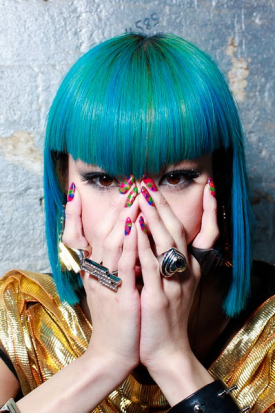 Where can people purchase your creations? Will you available outside of Japan soon?
Yes! You can purchase right here for now:
http://store.kozm-agency.tv
What is your grand plan for your brand Giza, or in a few years, how would you like to see your brand evolve?
I would like to release GIZA as full collection in the near future, and right now I'm preparing for it. Eventually, I'd like to separate into accessory and costume jewelry, to distinguish as a reasonable and high quality line, in the world market. And, of course, I wish to work on an apparel line, too.
You are also an incredible DJ so I have to ask, what artists have you been listening to lately?
Actually, the music I DJ for and listen to at home is quite different! I am listening to 50's and rockabilly a lot recently, and for DJing, Balkan music my recent favorite.
What is your favorite thing about DJing and club culture in general?
I myself started my DJ career by clubbing, and I got into many fabulous encounters by DJing, which broadened my world!
Do you plan on touring, DJing, or playing in the USA any time soon? (Please come to NYC!)
I have never been to NY before in my life! ( I would love it though!!!) My first visit to the US was to LA last year, and I may come to LA for DJing again in the future, but I really wanna come to NY too!
Read the rest of our interview after the jump, below!
You have done many amazing collaborations with companies like Joyrich and Wesc. Is there anyone else you'd really love to collaborate with?
I really enjoyed working with clothing brands so I wanna give it a shot again, and I have been interested in makeup and hair styling since I was kid, so I wanna do some collaborations with makeup or hair-care brands one day.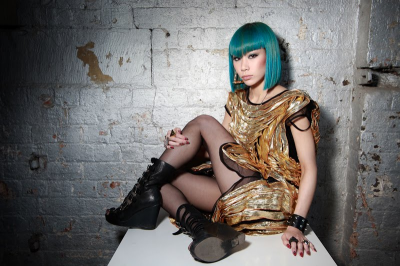 You are an artist and a singer in your own right, too. I know you recently released your fabulous second mix CD. Are you currently working on your own debut album? If so, what kind of sounds and themes can we expect to hear on it?
Yes, I am working on my first original album which will be released in July. I am putting my favorite pieces into the album, and want to express my world and feeling with vibes and words, which I can't really express with fashion and DJing.
Many people sometimes compare you as the "Lady Gaga of Japan." How do you feel about this sort of comparison? Does it bother you, do you agree with it, or are you open to it?
It's an honor to be compared with her, but I think I am totally different from her too. I have never thought about her, with what I am doing and what I wanna express. It is different.
Do you feel there is a language barrier at all to perform or release projects outside of Japan? Or do you think that in general global audiences would be receptive (such as they are with artists like Yelle)?
Domestic and overseas music scenes are surely different, so if you think you wanna sell a lot in Japan, you might feel that there is a language barrier. But when I made my songs, I rather wanted to make pop songs and dance music, which everyone can simply enjoy, so I really didn't concern myself too much with that matter.
As a musical artist, what is your ultimate goal for yourself? (Would you like to release albums and tour the world?)
To be singer has been my dream since I had played in a band as a junior high student, so I am super happy to be able to release the album! I really wish to travel around many places and tour.
Thank you so much, Mademoiselle Yulia! I hope you enjoyed the interview. Is there anything you would like to say to your English-speaking fans before we sign off?
I would like to perform outside of Japan more, and I really look forward to seeing all you guys in the near future!!!
Thank you so much to Mademoiselle Yulia, KOZM Agency, and Shuma-san for arranging this lovely interview. Please visit Mademoiselle Yulia either here or here online for more information and stay tuned for updates regarding her debut album this summer.

On a more personal note, we here at Electrocutie would like to send our deepest sympathies to all those affected by the unfortunate and devastating recent events in Japan. If you have the means, please take a moment to text "REDCROSS" to 90999 to make a donation of $10 to aid Japan. To all of our Japanese ともだち ("friends"): がんばれ! Stay strong!