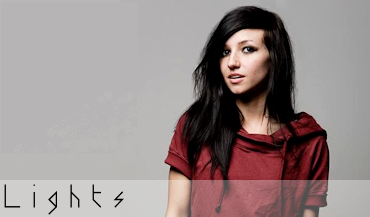 This past weekend, I attended Warped Tour in Camden, NJ primarily to see one of my very favorite electro-pop acts,
LIGHTS
. Since coming onto the music scene over the past two years with her synth-laden, upbeat pop hits, LIGHTS has been making some major waves in the music industry both in her native Canada as well as here in the U.S. (Her eagerly-anticipated debut album,
'The Listening'
, is due out in mid-September - so keep an eye and an ear out for it!)
Anyway, I was thrilled when I was able to score an exclusive, in-person interview with the adorable pop soon-to-be super-star! With my press pass wrist-band and a couple pages of interview questions on hand, I made my way into the press lounge for our one-on-one sit-down interview. We chatted about everything including where she'd be if she wasn't in music, what the future holds, her place in the music industry, and how it feels to be a real-life "saviour." Watch below and enjoy!
*** For the time being, please do not embed this video onto your site/blog without permission! If you really would like to, just shoot me an e-mail at neoncastle@gmail.com!

Special thanks goes out to my good friend Kayla of Lights-Love.com - the best LIGHTS fan-site on the Web - who served as my audio/video assistant for the interview. Also, thanks goes out to my patient boyfriend Matt for editing!