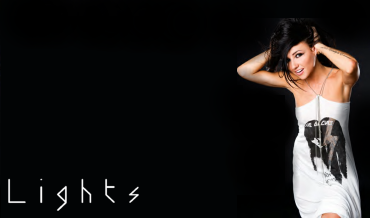 Intergalactic pop princess LIGHTS, who is just coming off of her lengthy Fall 2009 U.S. tour - before gearing up for one again supporting Owl City in late Winter/Spring - was sweet enough to answer a few questions for us here at Electrocutie! See what the "Ice" princess - as in her latest electro-pop single "Ice," available on iTunes here - had to say about life post-album, her upcoming tour, her music videos, Captain LIGHTS, and more! Check it out below.
Hey, LIGHTS! Thanks for chatting with Electrocutie! What has it been like the past few couple of months now that your album is finally out? Has life been any different for you post-album than pre-album?
One of the major differences post-album is the fact that I enjoy playing all the songs live a lot more now, as opposed to before when people could really only sing along to the ones that were released and they knew. I also feel like I'm getting more out of touring, knowing that I have an actual, solid piece of material that I'm working to spread around.
Have you even started thinking about your sophomore album yet at all or is all your focus still on The Listening right now?
My focus is definitely primarily on "The Listening" but at the same time, I'm always writing and constantly concocting ideas that will contribute to the next record. "The Listening" took a little over two years to get all of the right songs for. I wouldn't do the next record justice if I hadn't started thinking about it yet.
You recently released your stellar music video for your next single "Ice." Are you planning any other music videos yet for other songs? Will they all follow the same storyline that the "Saviour" video established?
I love the idea of continuing the story line, even in the most subtle of ways. Maybe it will take place in the same said universe, or maybe it will be a direct follow up. I love that the option is there for either.
(Check out the music video for "Ice" below!)
On the subject of "Ice," how did the "Ice Pack" bundle of remixes come about? Are you planning to take a similar approach with other singles? (Aka: Releasing remix EPs, etc.)
The "Ice Pack" essentially spawned from hearing Tim Armstrong's remix of the song. I was so blown away that the song could take on such a different face, I wanted to take the idea of a series of remixes further because it was something I wanted the world to hear. We also did this with Saviour, called the "Saviour EP," also only available on digital download. It's easy and fun and allows people to hear a different side of the music and showcases different artists, it's definitely something I'd love to continue to do.
It seems since 2008 you've been on a non-stop tour! Are you still touring right now? Do you continue to tour heavily in 2010 or is a break finally in your future?
Touring is one of those things that is imminent in the life of a musician. It's the way the music comes to life. It would be a bit like a painter making their masterpiece and then lock it away and never show it to the world. That being said, there will always be touring going on, and I don't foresee '10 being any exception.
Speaking of tours, we hear you're going to be accompanying Owl City on a joint-tour this winter! This seems like such a perfect music match made in electro-pop heaven! How did this tour between you two come about? What can fans expect from this tour?
I'm really looking forward to this for the very reason that it seems like such a good pairing. I love his music, and will be honoured to support him anywhere. I think if people want to hear something that helps them escape from life for a few hours, this tour might be perfect for them!
(Check out the tour dates below, including a list of extended tour dates that have just been released this morning. Get your tickets as soon as possible - don't miss this tour!)
LIGHTS/Owl City Tour Dates:
1/21 – Beaumont Club, Kansas City, MO
1/22 – Diamond ballroom – Oklahoma City, OK
1/23 – Pageant – St. Louis, MO
1/24 – Egyptian Room – Indianapolis, IN
1/26 – Majestic – Madison, WI
1/27 – 20th Century – Cincinnati, OH
1/28 – Newport Music Hall – Columbus, OH
1/29 – Recher Theatre – Towson, MD
1/30 – Norva – Norfolk, VA
2/01 – Music Farm – Charleston, SC
2/02 – Freebird Live – Jacksonville, FL
2/03 – State Theatre – Tampa, FL
2/04 – Culture Room – Ft. Lauderdale, FL
2/05 – House of Blues – Orlando, FL
2/06 – Melting Pot – Athens, GA
2/08 – Workplay Soundstage – Birmingham, AL
2/09 – Varsity Theatre – Baton Rouge, LA
2/10 – Rev Room – Little Rock, AK
2/17 – Komedia – Brighton, UK
2/18 – Electric Ballroom – London, UK
2/19 – Oxford Academy 2 – Oxford, UK
2/20 – Newcastle Academy 2 – Newcastle Upon Tyne, UK
2/21 – Birmingham Academy 2 – Birmingham, UK
2/22 - Manchester Academy 3 – Manchester, UK
2/24 – Melkweg – Amsterdam, NL
2/25 – Orangerie – Brussels, Belgium
2/26 – Le Nouveau Casino – Paris, FR
2/27 – Werkstatt – Cologne, GR
2/28 – 59 to 1 – Munich, GR
3/01 – Magnet – Berlin, GR
3/02 – Amager Bio – Copenhagen, DK
3/30 – Knitting Factory – Boise, ID
3/31 – Knitting Factory – Spokane, WA
4/01 – Paramount Theatre – Seattle, WA
4/02 – Vogue Theatre – Vancouver, BC
4/03 – Roseland Theatre – Portland, OR
4/05 – The Fillmore – San Francisco, CA
4/06 – The Fillmore – San Francisco, CA
4/07 – Fox Theatre – Pomona, CA
4/08 – Soma – San Diego, CA
4/09 – Club Nokia – Los Angeles, CA
4/10 – Marquee Theatre – Tempe, AZ
4/12 – Salt Air Theatre – Magna, UT
4/13 – Ogden Theatre – Denver, CO
4/15 – Stubb's – Austin, TX
4/16 – Verizon Wireless Amphitheatre – Houston, TX
4/20 – The Tabernacle – Atlanta, GA
4/22 – Constitution Hall – Washington, DC
4/23 – House of Blues – Boston, MA
4/24 – Terminal 5 – New York, NY
4/25 – Electric Factory - Philadelphia, PA
4/27 – Sound Academy – Toronto, ON
4/28 – House of Blues – Cleveland, OH
4/29 – Royal Oak Music Theatre – Royal Oak, MI
4/30 – Riviera Theatre – Chicago, IL
5/01 – State Theatre – Minneapolis, MN
5/02 – Eagles Ballroom - Milwaukee, WI
Your animated series Audio Quest: A Captain LIGHTS Adventure on MTV is a really unique marketing strategy and is so exciting and entertaining! Do you have any plans to expand the series or Captain LIGHTS universe somehow?
I would love take Capt. LIGHTS to a crazy level, releasing a video game or taking her to the big screen. Right now though I'm hoping to at least put her into print and release the issues in hard, comic form as well.
(You can view one of the issues of Audio Quest: A Captain LIGHTS Adventure below!)
Thank you, LIGHTS! Is there anything you'd like to say to your lovely fans before we sign off?
Nothing other than I have the greatest that are in existence, and I will do everything in my power to keep you all happy and entertained.
Thank you to LIGHTS, Filter Creative Group, and LIGHTS' label for the interview! Don't forget to visit LIGHTS' official website at www.iamlights.com for exclusive content, music videos, photos, news, tour dates, and more! You can also purchase LIGHTS' debut album, 'The Listening,' on the site store.