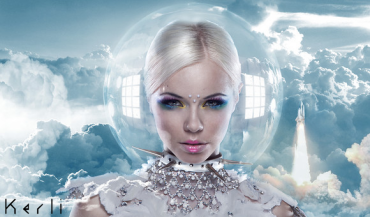 Estonian bubble-goth princess
Kerli
is ready to take you on an odyssey in her just-dropped, celestial new single "
Zero Gravity
." With soaring synths, surging electronica, and throbbing beats, "Zero Gravity" is a big, addictive pop track with a euphoric message, glacial vocals, and the kind of powerful, uplifting electro that will have you feeling weightless.
Kerli has definitely come a long way since her 2008 pop-rock oriented release 'Love Is Dead.' Following the electronic leanings of her buzz single "Army of Love," there's a hint of new-age influence in the new song, as well as pulsating 90's techno and industrial rave. And near the end of the track, there is a massive, chills-inducing breakdown of crashing synths and distorted vocals that can only be described as something you might thrash to at a neon-bathed rave in Tokyo... or on the moon.
Hold on to your moon boots and take a listen below:
Zero Gravity - Kerli
Visit Kerli online
here
and stay tuned for our exclusive interview with the bubble-goth artist soon.