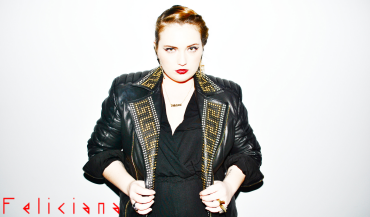 Meet
Feliciana
: Your new favorite Electrocutie! Throbbing electronic beats, crystal clear vocals, and just a dash of sexy Euro-dance mark the musical stylings of Netherlands-based dance-pop artist Feliciana, whose latest offering, "
Turn Up The Radio
," comes in the form of a hazy, strobe-lit party-romp of a video. This talented singer-songwriter only recently bleeped onto our radar, but chances are, she's set to stay there for quite a while.
Feliciana has all the makings of an international dance-pop superstar, including soulful, powerhouse vocals, just the right amount of party trash swag, radio-primed, club-ready beats, and edgy style, both musically and fashion-wise. The rising pop star, who collaborates with her own production team called The Difference, is gearing up for the release of her new '
UNEEK EP
,' and has been dropping samples of the tracks on YouTube the past few weeks. So far, the beats are loud, the synths are pulsing, and Feliciana is already comfortable wearing the dance diva crown, her vocal delivery full of confidence and quirky swagger.
The crown jewel so far, however, is definitely lead single "Turn Up The Radio," a massive dance-pop hit with serious radio potential in the same electro-pop vein of Robyn, Kesha, or Wynter Gordon. "Turn up the radio! I wanna da-a-a-a-ance-ance!" Feliciana cries in the throes of dancefloor bliss as the infectious chorus drops. Check it out below:
You'll definitely want to turn up the radio for this one. Visit Feliciana online
here
and stay tuned for more on this rising artist.