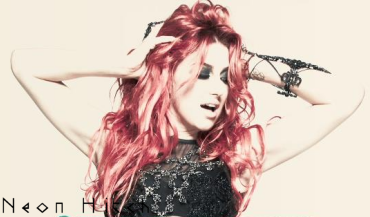 If your electro doesn't pop up while watching this, then you betta see your doctor. The insatiable Neon Hitch is at it again - and this time, she's getting down and dirty. The official video for Neon's massively sexy smash hit "Fuck U Betta/Love U Betta" has just hit the web, and it is hands down the sexiest, synthiest, and most addictive release this year so far. (Though, I can't see anyone topping this, like, ever.)
In the video, our redheaded electro chanteuse engages in a battle of the sex between her two alter-egos, taking one form in the demure, flirty white-corseted "Love" Neon and another in the sheer black bodysuit-wearing, writhing sex-pot "Fuck" Neon. Thrusting, rolling, licking, writhing, booty-shaking, and pouting seductively, the two Neons vie for attention in graveyards and gardens over an aural backdrop of throbbing synths and filthy dance beats. The clip comes to a climax (yeah, we went there) when black oil is poured all over the dance diva as she slips around in the slick liquid.
From the slick sexual reference in the opening of the video (oh, come on, you know what that flower looks like), to the clever mannequin-molestation scenes, it just doesn't get any betta than this. Get those tissues ready and check it out:
Visit Neon Hitch online
here
.