Swedish dance artist
September
recently released the debut international single from her new album
'Love CPR,'
and it is fierce!
"Me & My Microphone"
is a euphoric slice of electronica-pumped dance-pop, with whooshing synths, whizzing beats, a thumping bass, and September's signature arena-to-the-club vocals.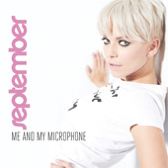 You can download the new track on iTunes now. Check it out below:
September - Me & My Microphone
Visit September on the web right
here
!