California-based electronic duo
Uh Huh Her
recently released their brand new EP this week,
'Black And Blue,'
available now on iTunes. The EP, rs teto precede their sophomore full-length album 'Nocturnes' due out later this summer, contains six brand new tracks ranging from electro-rock with lo-fi vibes to synth-laden new-wave. All in all the new record teeters sonically between their signature melodic synth-rock and a newer, darker sounding new-wave style.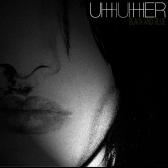 Below, you can find the band's promo single that was released a few week ago. It's not on the EP, but was available as a free download for a limited time. The track certainly sets the stage for the 'Black And Blue's' darker electro-rock edge though, so check it out!
Same High - Uh Huh Her
Check out Uh Huh Her online right
here
!