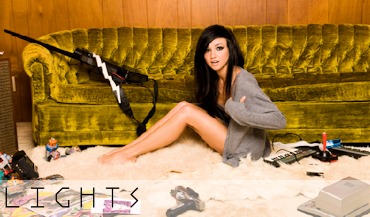 Inter-galactic electro-pop princess
LIGHTS
' is releasing her 4-song EP for her shimmery mega-single "
Saviour
" this Tuesday, September 8th on iTunes and Amazon. The release is exclusive to patient U.S. fans, who still have weeks to go to wait for her U.S. release of her full album,
'The Listening
,' on October 6th. Until then, U.S. fans can enjoy her shiny new songs "Saviour" and "The Listening," as well as two brand new, stellar dance remixes of "Saviour."
I have heard the entire album versions of "Saviour" and "The Listening," and I can tell you that this EP is more than worth downloading, especially for die-hard LIGHTS fans who are struggling over the thought that they still have weeks to go until the full-length drops! The EP tracklisting for "Saviour" is as follows:
1. Saviour
2. The Listening
3. Saviour (The Colin Munroe Unsung Mix)
4. Saviour (The Angry Kids FM mix)
To coincide with the EP's release, the whole EP (four songs) will be streaming live on LIGHTS' official MySpace
here
on Monday, September 7th - today! Be sure to check it out, and don't forget to download your copy of the "Saviour" EP on Tuesday!