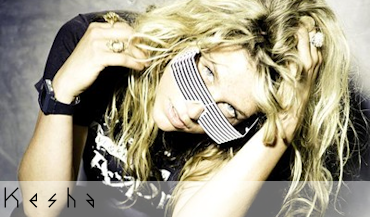 Remember that amazing hip-hop/dance Flo Rida song, "Right Round," that blew up the airwaves this year? Remember those amazingly sexy, sassy female mystery vocals on the track that everybody thought for some reason was Katy Perry? Well, that voice actually belongs to brassy blonde up-and-comer
Kesha
, who has just recently dropped her debut solo song "
Tik Tok
."
The single, a club-stomping, MIA-sounding, electro banger with hip-hop influence, is already available on iTunes - but you can also download the song for free by visiting her MySpace page! It is sure to be a huge party hit and with an upcoming album in the works, supposedly being produced by Max Martin and Dr. Luke, Kesha is poised to blow up. If her vocals on mega-hit "Right Round" and her work on other pop stars' (Katy Perry, The Veronicas, Britney Spears) songs are any indication, this girl is definitely a shooting star on the rise, rise, rise!
Check out Kesha on MySpace
here
, where you can download "Tik Tok" for free. Or you can purchase the song
here
on iTunes!