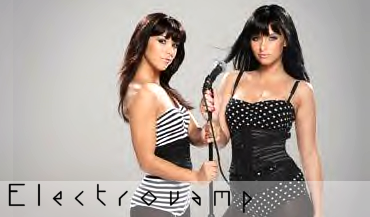 The cute, sexy, and sassy sister duo known as Electrovamp is one of many incredible electro/dance-pop acts to come out of the U.K. recently. Sisters Tammy and Kally were sweet enough to chat with Electrocutie and clear up a few things regarding their upcoming album and single releases, getting mistaken for twins, and their fashion must-haves!
Hi, ladies! Thanks so much for chatting with me here at Electrocutie Music Blog. First off, let's talk about your origins. When did you two realize you wanted to be pop-stars and what's the journey been like up until now?
We have been singing since we were little in our bedrooms and at family BBQ's, but we decided to take it seriously and give it a go as a career at the age of 13 and 14.
That's when we wrote our first song and then at 14 and 15 we did a 25 date tour around the U.K. with girl-band Girls Aloud! From then on we have done lots of gigs and had some great experiences!
How does the dynamic of being sisters would for or against you as a music group?
It's definately an advantage to be sisters. We know each other inside out and we live together so it's easy to just get up and go to wherever our destination is! :)
Do people ever mistake you as twins or switch up your names?
Yes, we do get mistaken for twins now and again, even if we tell them our ages first. (We are a year apart!) Ha ha.
So your debut album has been a long time - and I mean a looong time - coming. So far, as I understand it, you ladies have released three major singles so far: "I Don't Like the Vibe In The VIP," "Drinks Taste Better When They're Free," and "Something To Tell Your Friends About." Where does the CD stand right now? Are you currently recording - and is an official release date in the near future?
So far we have released "I Dont Like The Vibe In The VIP" and also "Drinks Taste Better When They're Free," which was featured on the U.K. blockbuster film 'How To Lose Friends & Alienate People.' We also did an exclusive song called "Love What You Do" for the sound-track that was released last year. "Something To Tell Your Friends About" has not been released. It's just a new track that we wrote and recorded recently. The album is still in the making. We are recording lots and it's coming along nicely! We keep changing our minds on what we want on the album as our song-writing just seems to get better! We want to make our 1st album the best it can be!
So just bare with us and keep your ears open, he he. :)
I heard that the CD is going to have a concept or theme behind it - a "soundtrack to the weekend," as I've gathered. So are the songs on the album going to tell a story throughout the CD?
Our songs are telling a story! They follow on from each-other! Well, that's the plan. :)
Once the CD drops, will a tour follow? Any plans to take it international? (Like, come here to the US perhaps, please?)
We would love to do a tour as soon as the album's finished! We love going to different places - we recently went to Moscow which was great fun and we are planning a trip to Italy to perform as that's where we were nominated for Italy MTV Best New Artist! Watch this space for the U.S... We are looking in to it!
Your music is very upbeat, sexy, fun electro/dance-pop! How did you two decide on what the sound was going to be - or what influenced it?
We have experimented with so many different styles but this one fitted perfectly for our style and attitude! We wanted to make songs that we would be able to dance to in a club and something that gets our personality across!
Let's talk a little bit about fashion. You two seem to definitely like your pinks and purples, and sexy little outfits... Are you girly girls - and is fashion and getting dressed up a big part of you ladies as a music group?
Yes, we are quite girly! Our bedrooms are also pink and purple, ha ha! We just love dressing up whether that's to go on-stage or to go out with friends. :)
What fashion accessory, cosmetic, or type of clothing can you not live without?
Black eyeliner and tights!!!
Thanks so much, ladies! Anything you'd like to shout out or address to your fans before we wrap this up?
Come say hello to us on
MySpace
,
Facebook
,
Twitter
, or Bebo! :) Thank you for all your support! Lots of love! xxx Tammy & Kally
Thanks so much, ladies! And there you have it, readers! Don't forget to visit the girls online via the links posted to hear some really fun, really catchy dance-pop tunes!