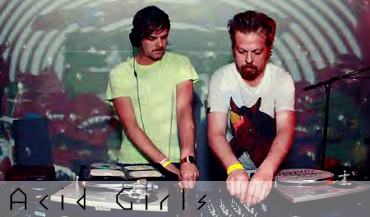 Acid Girls
, the LA-based production/DJ duo consisting of two, well, actually guys, is on the verge of releasing their debut LP on indie electro label IHEARTCOMIX on September 1st. The duo, known extensively in club-land for their killer remixes, has mastered the perfect balance of edgy, indie electro-clash mixed with big stadium techno-beats, and their upcoming album is sure to offer a delicious helping of that sound.
To prove it, here is the sexy video (complete with semi-nude, semi-psycho hipster chicks) for Acid Girls' first dance-floor-crushing single from their debut. It's called "
The Numbers Song
." Enjoy below!
Visit Acid Girls on MySpace
here
and don't forget to visit their label IHEARTCOMIX
here
for other great music!