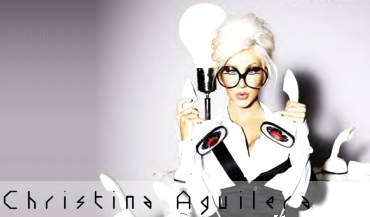 Pop princess
Christina Aguilera
, who at last year's MTV Video Music Awards stunned viewers with a Lady Gaga-esque look and very electronic performance of her "Genie 2.0" remix and latest single "Keeps Gettin' Better," has been hard at work in the studio these past few months on her next album - and she's been working with quite the talented medley of electronic music artists!
The bombshell, whose last album was a soulful blend of pop, blues, and jazz, has apparently been rubbing the dance genie lately, 'cause her lineup of producers, co-writers, and collaborators on her as-of-yet untitled new album are said to include Le Tigre, Goldfrapp, Ladytron, and Santigold among many others. The LP is rumored to be in the vein of electronica and dance-pop, musically speaking, and will explore a futuristic theme in direct contrast of her reflective, retro 2006 album "Back To Basics."
In a recent radio interview, Aguilera had this to say of her upcoming album: "I know I can't let too much out the bag too soon. I just can't, 'cause I really want you guys to be surprised and to experience firsthand what I'm talking about or what I'm not talking too much about. Too soon in the game, but wrapping everything up now… I got a chance to sort of write with Santigold, M.I.A., Ladytron — artists that I really love."
From the sound of things so far, we can only assume that for Xtina things will only keep gettin' better!