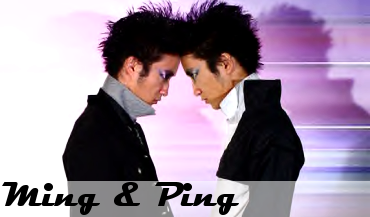 In 2002, Hong Kong born/L.A. bred brothers Ming and Ping started
Ming and Ping
, the self-proclaimed (and true to nature) "spicy" electronic project that is unique for its highly visual flair, sexy indie electro new-wave, and Cantonese-inspired performance theatrics.
Ming and Ping's sound is a little 80's synth, a little new-wave pop, and a whole lot of futuristic electro all blended together to make some really hot dance music! Plus, it helps that the boys are also ridiculously cool and cute.
The brothers are currently recording their forth-coming fourth album simply titled
Ming and Ping
due out in August (2009), but you've probably already heard them if you're a sports fan - Ming and Ping have been featured in countless sports movies, TV shows, and ads already, especially ones involved snowboarding.
Check them out for sure on MySpace
here
or on their official Web site
here
.