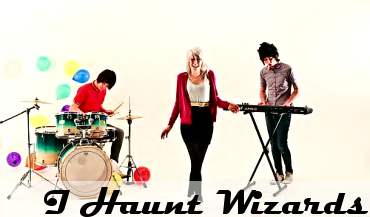 It seems that all the good British electro acts these days have been pulling steady inspiration from 80's synth-pop. Everyone from Little Boots to Ladyhawke to La Roux has been pumping out hit after hit with 80's inspired throwback beats and sweet, shimmery synths. Young but well-established electro-pop band I Haunt Wizards is no exception - and even stand out from the crowd with their indie appeal.

Fronted by cute blonde vocalist Helen, along with fellow band-mates/friends Zac and James, I Haunt Wizards isn't exactly a new band - they've been staples on the U.K. indie electro scene for a few years now since 2007. However, the band - whose cite inspirational sources in Duran Duran, Kim Wilde, and Human League - is currently working on a new album. With that in mind, the lovely Helen was sweet enough to answer a few questions for us here at Electrocutie! Read below...
Hey, guys! Firstly, thanks so much for agreeing to this interview. I guess the foremost question to ask has to be how did the very unique name "I Haunt Wizards" come about?
Zac and James used to play a lot of computers games during the summer, and they were inspired by one of the games called "Hocus Pocus," where you had to haunt wizards!
How did you three meet and agree upon what the sound of the band was going to be?
Well, Zac and James are long-time friends and have been in previous bands together. I met James at my friend's house party. I was a little bit drunk and she had a piano - I started playing and singing. It all started from there! As for our sound, we never really agreed on anything. It just happened!
Speaking of the music, how exactly would you describe the sound of your music to new listeners? It's obviously very 80's synth-pop, but I can hear so many other musical styles…
Well, we could give you a long list of styles but instead we mixed them up into a new one: Magical DX Glitch Pop. Yeah, right on.
What influences the lyrics and who writes the lyrics - just one of you, or is it a writing process between all band-mates?
The lyrics are influenced by life and the mood of the song, etc. But it's generally a joint effort between James and Zac. I add little things like words, harmonies, and etc. when I'm recording.
You three seem to very sharply-dressed! How important is style and image to you on both a personal level and for representing the band?
He he, thank you! Definitely image is so important to any band, including IHW. It's their USP... (Google it!) Example: The Horrors, Kanye West, The Beatles, etc! On a personal level, it's just whatever we feel comfortable in, whether it be high-heels and a mini skirt or a pair of Nikes and some skinnys! We don't feel pressured to look amazing all the time.
Also, I heard you guys are still pretty young - how old exactly are each of you? And do you think your age gives you an advantage/disadvantage/etc. in the industry?
Zac and James are 18 and 19 respectively and I'm 18. Sure, it's another USP! I have no idea whether this is an advantage or disadvantage! I think that if the fans and the industry enjoy our music then it shouldn't matter how old we are.
So do you plan to drop an EP/LP soon? Or tour overseas at all?
It's coming soon!!! We are recording the album right now and when it's finished, we will drop it like it's hottt! An American tour has been discussed... We will keep you updated!
(** The USP Helen is referring to, I believe, is called the Unique Selling Proposition, which is a strategic marketing concept that is utilized in many industries, the music business being no exception.)
Again, thank you so much Helen, I Haunt Wizards, and Ear Candy Music for the exclusive interview. You can check out I Haunt Wizards on their MySpace here - I suggest you do so!