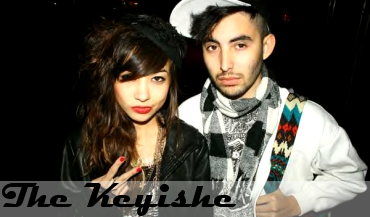 LA-based electro-freestyle girl and boy group
The Keyishe
might still be fairly underground at the moment - you still can't really purchase their music anywhere yet - but that doesn't mean you shouldn't check them out!
With their killer 80's-influenced, funky, bass-heavy booming beats and old school hip-hop/electro-rap synth songs, The Keyishe is a staple on the California club scene. The cute duo is also widely recognized for their 80's/early 90's West Coast style with bright prints, acid wash, and b-boy/b-girl flair that makes them stand out. Plus, with stage names like
Vally Girl
and
Old Young
, this band is just too fresh to miss out on!
To hear more, as well as check out their dope style, click
here
to visit their official MySpace.