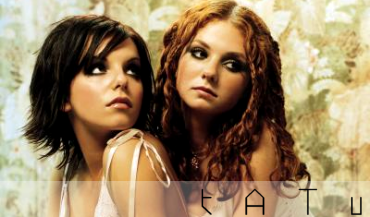 On July 13th, the international pop super-group known as
t.A.T.u.
released the English counterpart video to their latest single called "
Snowfalls
." The Russian duo, who were recently awarded the
Legends of MTV
award at the MTV Russia Music Awards in 2008, have reportedly split in order to pursue separate music careers, though this is unconfirmed. t.A.T.u. have been in the forefront of pop music in Russia since 1999, but are most known internationally for their hit single entitled "All The Things She Said."
The electro-pop/pop-rock girl duo, comprised of Lena and Yulia, has also been in the epicenter of some heated pop-culture controversy surrounding their faux-lesbian relationship and marketing ploys. Regardless, t.A.T.u. stands as one of the most talented and ground-breaking female pop groups to make waves internationally.
Here is the super-charged, fast and furious, futuristic video for the English version of "Snowfalls," available on their latest electronica album, '
Happy Smiles
.' It's non-stop fun, super fast, and quite sexy! Enjoy.
To visit t.A.T.u. on MySpace, click
here
! Their official Web site is located
here
, where you can learn more about the girls, purchase 'Happy Smiles,' and more.