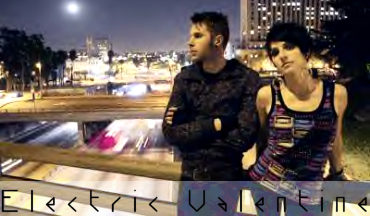 In terms of exciting new electro acts, the West Coast has been really picking up the pieces lately. From Ultraviolet Sound to Hyper Crush, it would seem that the left side of the U.S. has been pumping out some really fun, dance-party electronic bands. That being said, meet
Electric Valentine
- the girl/boy California-based duo comprised of Lauren and Chris, respectively - who have been pumping out some major catchy, fast-paced dance-floor songs and killer remixes.
Don't confuse them with other electro acts in the same musical vein, though. Electric Valentine has a sound and style all their own and are slowly but surely injecting their electro-stomping tunes into clubs, events, and parties nationwide.
Armed with their big, pulsing techno/new-wave hit, "
A Night With You
," and geared up for the release of their debut album, '
Automatic
,' on August 18th, this is a band that is clearly on the rise. So get on board and discover them now, so you can say you knew 'em before they were big.
(That being said, thank you to all the readers who recommended this awesome band to me!)
You can hear, learn, and view more on the band's official MySpace page
here
.