Plus-sized fashionistas everywhere, rejoice! The electrifying curvy front-woman of legendary rock band
The Gossip
,
Beth Ditto
, has just joined the ranks of other singers-turned-designers by launching a collection of 80's inspired clothes for UK-based plus-sized retailer
Evans
. The big difference here, no pun intended, is that the clothes are plus-sized - and actually very well-designed!
Featuring bold printed tunics, prom dresses, sequined minis, and a killer leather jacket, the clothing line is an explosion of colorful, sexy, glittery 80's discoteka frocks, tops, leggings, skirts, jackets, and accessories. Inspired mostly by the 80's rocker look, as well as Ditto's own personal glam-punk style, the clothes run approx. from size US 10 - 28! Best yet, the Web site allows for international purchasing and shipping.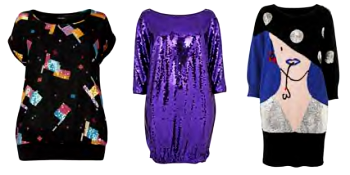 Ditto is a curvy woman herself who has publicly embraced her figure in the media outlet many times. She has lamented over the lack of fashionable, unique clothing available for plus-sized ladies before, even admitting to using her own sewing skills to design and create most of the clothes she wears.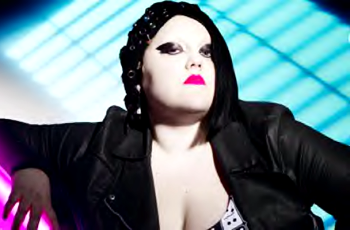 If you're a funky fashionista with rock-star style who has a hard time finding the right fit, I suggest you check out this awesome music-fashion collaboration - rock out with your frock out!
To visit Beth Ditto's band The Gossip on MySpace, click
here
. To view the Beth Ditto Collection for Evans and purchase her designs, visit the Evans UK Web site by clicking
here
. Another great outlet for youthful, fashionable plus sized clothing here in the US is Torrid, found
here
.