Meet
Charli XCX
: The pint-sized, 16-year-old British electro-popper who seems to be a mix of Lily Allen's sass, MIA's style, and Karen O's stage presence has been doing the quick rise from underground nu-raver to full-fledged electro-princess. And she's even still too young to really get into some of the venues she's playing at!
Armed with some seriously experimental, broad-ranged electro party songs - no two of her songs sound the same - and some really big-for-a-little-girl stage antics which include rolling around in candy-colored crinoline, Charli XCX is definitely a rising force to be reckoned with.
Adding to the over-all awesome appeal of this cute-as-a-button, sassy British club kid is her 80's geek meets 90's club kid meets underground nu-raver meets fairy princess style! Charli XCX's fashion includes tons of glitter, bright makeup, pig-tailed hair, big bows, bright and color-clashing prints, and tons of poofy, cotton candy tu-tus!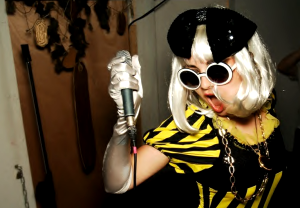 Whether it's her songs or style, though, Charli XCX is definitely one on-the-rise starlet that you should not miss out on. Though many of her awesome older songs and single have been taken down from her MySpace - I suggest you YouTube some of her performances or download them to hear 'em - you can still check out one of her brand new songs remixed.
To learn more, visit Charli XCX's official MySpace
here
. You can also visit her official Web site
here
!