An across-the-forehead head-band, a tight and brightly colorful mini-dress, and shiny knee-grazing boots might seem more like the type of outfit Judy Jetson or sci-fi goddess Barbarella would wear. But for rising Canadian electro-pop star
Lights
, these wardrobe choices are merely everyday fashion staples!
Lights, who is poised to drop her highly anticipated full-length debut album
The Listening
this early fall, is known for her bright space-cadet style - a fashion choice which visually mimics her cool, shiny electro beats and synth-backed, celestial melodies.
Drawing inspiration from across the board - 80's new wave, sci-fi princesses, comic book heroes (namely Wonder Woman), 70's hippies, the internet scene-queen look - Lights' is an effortless fashionista who now has thousands of teenage girls (and boys) rocking the electro-space look with across-the-forehead head-bands at her concerts.
If you've been trying to get this hip, cute, futuristic look down, take a cue from Lights' wardrobe: lots of skinny-cut pants, tons of bright neon colors and black mixed together, space-theme jewelry, bright and tiny mini-dresses, shiny boots, winged-out black eyeliner and smokey eyes, and of course... lots of hippie head-bands! For inspiration, check out the pictures below.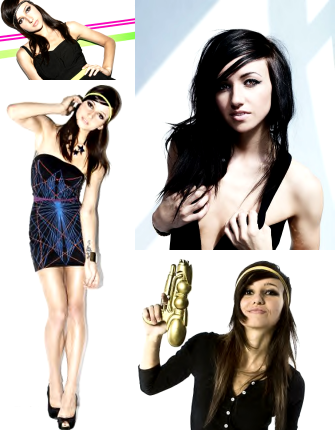 Lights' style is, in the words of Judy Jetson herself, "totally inter-galactic!"
To check out Light's sweet synth-pop sounds and more photos, visit her MySpace
here
or her official page
here
! For unofficial news on Lights, updated nearly daily, as well as an extensive collection of photos, exclusive features, and much more check out the awesome Lights-approved fan-site
Lights-Love.com
!