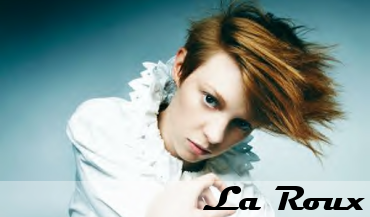 It seems as though the 80's revival just won't go away - and that's a good thing! One of the latest and coolest ladies to take advantage of the throwback trend is U.K.-based rising star
La Roux
, also known as Elly Jackson. (Technically La Roux is a synth-pop duo made up of Jackson and her co-producer Ben Langmaid.) La Roux's sounds are very reminiscent of 80's new-wave/synth groups like The Eurythmics and Depeche Mode, so it only makes sense that the 'In For The Kill' singer dresses the part!
Dressing the part of an 80's synth-pop star in 2009 means lots of edgy fashion choices like asymmetrical designs, bold jewelry, bright colors as well as monotone, leggings and acid-wash, killer hair, and tons of rock-star androgyny! In fact, La Roux is probably mostly known for her modern take on the androgynous look: mixing menswear-tailored clothes with a fresh face (minimal makeup), all the while rocking her edgy, punky whiplash hair-style! (You gotta wonder how much hair-spray goes into achieving this look, huh?)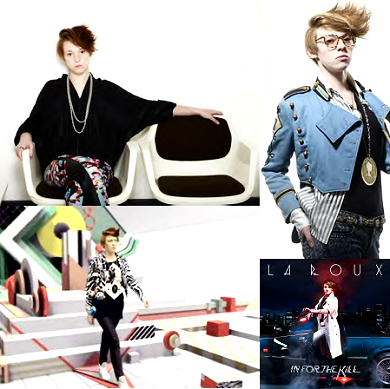 If you've been trying to achieve this look, take some tips from La Roux - she pulls it off with cool, effortless ease!
To check out La Roux's music and photos, visit their MySpace page
here
!