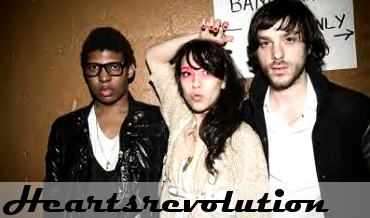 Enjoy this adorable video to Heartsrevolution's latest single, "薔薇と彼女の王子," which translates in English to "The Rose and Her Prince." The single is available on 'Kitsune Maison 7' - which dropped June 1st - and is a sweet, powerfully moving electro track. The video, which was put up on the band's MySpace page in late May, features footage from the 1974 cult-classic film, "The Little Prince."

Heartsrevolution is one of my favorite bands at the moment, with their cute aesthetic, sexy stage antics, attractive band members, and unique electro-punk sounds on the same wave-length of Crystal Castles. (Plus, vocalist Lo and keyboard-player Ben are a couple - awww!) They're awesome and really ooze an effortless cool: What other band do you know of that brings their own pink, pimped-out ice cream truck (with unicorn and heart decals on it) with tons of goodies like international candies, Japanese toys, and band merchandise to their own shows? Well, Heartsrevolution does, that's who!

Visit their official MySpace
here
to listen to their sweet digital sounds. To buy band merchandise, visit their official Heartschallenger - their other project - Web site
here
.

To purchase the 'Kistune Maison 7' compilation, featuring "The Rose and Her Prince," click
here
!