Earlier this year, we welcomed back indie-goddess Natasha Khan of
Bat For Lashes
with her second album,
'Two Moons
.' Khan was able to avoid the "sophomore slump" most artists face when dropping their follow-up album, as 'Two Moons' was met with high-hoped anticipation and glowing reviews among critics and fans alike.
The leading single off the album is called "
Daniel
," a haunting, synth-laced indie-pop gem that college radio indie stations just can't get enough airplay of.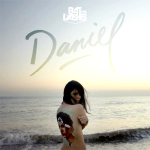 But considering that all hipsters still need to get their dance on occasionally, the very talented Tara Busch has been lovely enough to create a down-tempo dance remix for the single! The remix ("
Tara Busch's AnalogSuicide Remix
") is an electronically darker, soul-moving, more haunted interpretation of the original version and transforms 'Daniel' into a sweeping epic of a song.
The best part of all? You can download the excusive remix for free on Bat For Lashes' Web site, or by clicking
here
! All you are required is to fill out some contact information and then the track is yours. And just in case you were wondering how the remix was conceived/developed/produced... you can check out Tara's 9-part documentary about its creation on YouTube.
To visit the Bat For Lashes official Web site, click
here
. To visit the official Bat For Lashes MySpace, click
here
.