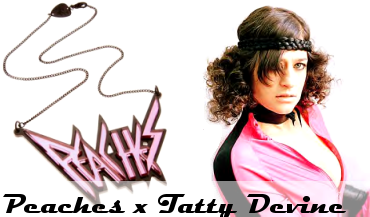 Just this past May
Peaches
dropped her newest and latest dance-friendly album, 'I Feel Cream,' to rave reviews (you can see my own review only a few posts back on this blog!) and many thrilled fans. Now though, the electro-glam queen's fans have much more to be excited about than just a new album and a pumped-up club tour. Lo and behold, the "
Tatty Devine for Peaches
" necklace!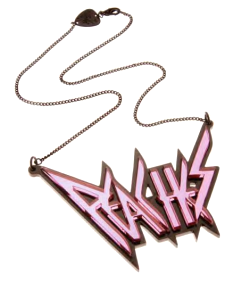 The necklace, Peaches' name in neon pink glam-rock style lettering, is part of a new collaboration featuring the singer and the U.K.-based Brick Lane jewelry company Tatty Devine - which ironically, considering Peaches' gender-bending style, is probably most famous for their mustache necklace.
If you're a devoted fan, Peaches will be doing some in-store promotion and a signing for Tatty Devine in their London store on June 27th between 2-4 pm. If you're from the U.K. - and want to have bragging rights to your friends - I suggest you not make plans that afternoon. Feel some cream!
Visit Tatty Devine jewelry
here
or Peaches' MySpace
here
.