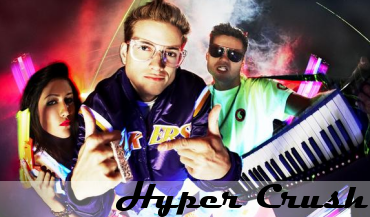 Get ready to go into hyper-drive, because explosive California based electro-crunk group
Hyper Crush
is about to drop
Mixtape 2
within the next couple of days. Hyper Crush is known for its zooming 80's synth/90's electro sounds and fun, sexy party raps and lyrics. The band has most recently toured with Kevin Rudolph of "Let It Rock" fame, had its EP sell in Hot Topic stores nationwide, and has also been part of the Bamboozle 2009 lineup this past May. They're even gearing up to tour with Lady Gaga in Europe. Clearly, this is a band on the rise!
When it drops, the mixtape will be available not only for free download, but you can receive a free CD - yes, free - via their merchandise store when it goes up. Why is Hyper Crush giving out free music? Well, here's what they had to say on their official MySpace blog:
"THE NEW MIXTAPE IS ON ITS WAY! WERE FINISHING THE FINAL TOUCHES AS WE SPEAK. ITS AN 8 BIT ODYSSEY THROUGH NINTENDO AND SUPER NINTENDO. WE WROTE AND PRODUCED EVERYTHING ON THE MIXTAPE EXCEPT FOR A FEW TRACKS. IT WILL HAVE 24 BRAND NEW SONGS INCLUDING "POP LOCK REMIX AND "DISKOTRON." WE COLLABORATED ON A FEW TRACKS WITH SOME DOPE CATS LIKE THE LEGENDARY EGYPTIAN LOVER, KINETIC, KILLAH PRIEST, YOUNG DRE THE TRUTH, AND FAR EAST MOVEMENT.

THE MIXTAPE IS HOSTED BY OUR BOY CLINTON SPARKS AND WILL BE AVAILABLE FOR FREE DOWNLOAD ON OUR WEBSITE, MYSPACE AND VARIOUS OTHER PLACES. WE ARE ALSO PRESSING UP LIMITED EDITION CD'S OF THE MIXTAPE WHICH WILL BE AVAILABLE FOR FREE AT OUR MERCH STORE WHILE THEY LAST. THIS IS A GIFT TO ALL OUR FANS THAT HAVE BEEN SUPPORTING US AS WE NAVIGATE THROUGH THIS TREACHEROUS TERRAIN KNOWN AS THE MUSIC INDUSTRY."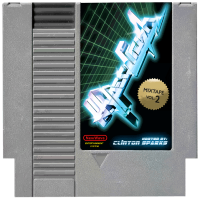 If you like booming retro electro, 80's nostalgia, party music, old school hip hop, or just freaky-fun music, check this day-glo band out now. That way you can say you knew them before they blew up.
Check their music out on their MySpace
here
, or visit the official Hyper Crush Web site
here
!