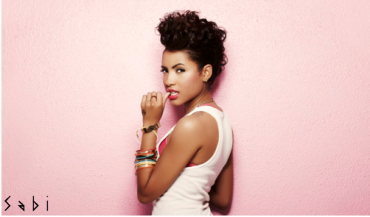 You might recall her as the chick from one of the most addictive hooks last year, featured on Cobra Starship's radio hit "You Make Me Feel." Or perhaps you'll recognize her from the opening of Kardashian reality show Kourtney and Kim Take New York. At first listen, she conjures up a more hip-hop Wynter Gordon, or a more dance-pop Rihanna. But however you may know of or think of her, you certainly wont be forgetting her after this track.
"Damn this wild heart of mine, it's gonna get me in trouble," wails LA-based up-and-comer
Sabi
in her new single "
Wild Heart
," the video of which dropped online today. It's a slow-grinding dubstep-infused pop track, with quelchy synths, wobbling bass, and a memorably emotional hook.
In the video, we find our electro chantuese pleading with her heart while her bedroom goes up in flames around her in a stunning visual-metaphor. And during the gorgeous twinkling synths of the breakdown right before the bridge, Sabi makes sweet, sweet love to the camera with her big brown eyes, before begging her lover to "be a better man." It's an emotional video for a surprisingly emotional track. Check it out below:
Visit Sabi online
here
.