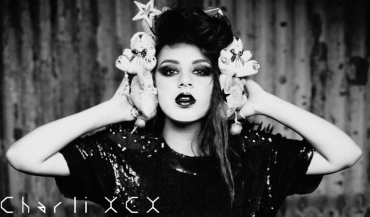 A few nights ago, my friend and fellow
blogger
gave me a last-minute invite to the come check out Charli XCX at Santos Party House in NYC. Already having missed her set in Brooklyn a few days prior, I couldn't pass up the opportunity to check out the rising gothic-pop princess myself!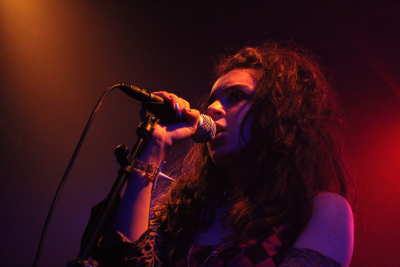 I'd been a fan of UK artist Charli XCX for over three or four years, following her club kid hyper-pop back in the MySpace days. She was a young teen back then, making thrashy, clever punk-pop, but to see and hear her today is to witness the evolution of an electro-pop princess in the making.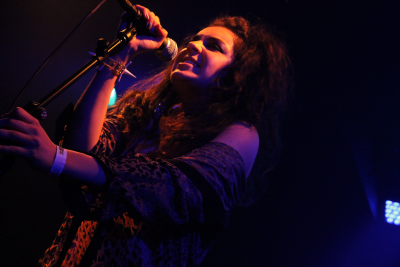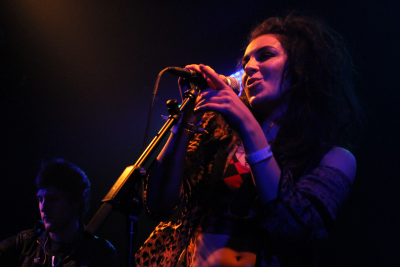 Gone are her neon day-glow dolly dresses of her high school days performing underage at London clubs, and in their place is an edgy young woman, an international pop artist on the rise, and some seriously slick, sensual electro-pop.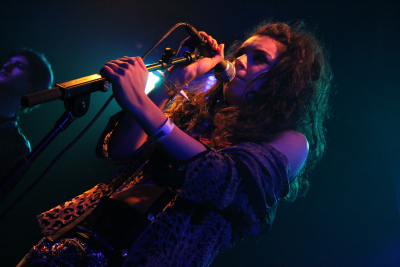 While Charli was the opener of the Neon Gold-hosted show at the downtown venue, she commanded the tiny stage with all the swagger of a punk rock star twice her age, backed only by one musician on synths and another on an electric drum set. Opening act or not, the show was all hers.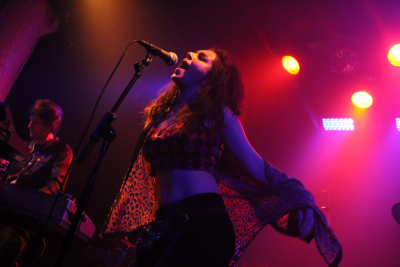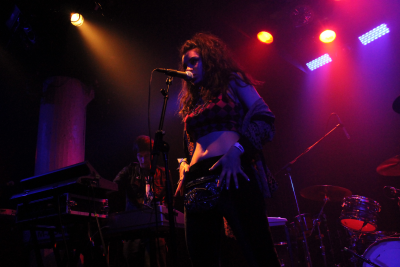 Wearing a midriff bearing harlequin crop top, skeleton earrings, and massive industrial platform boots, Charli was all slender limbs, heavy eyeliner, and dark tangled hair as she thrashed, gyrated, and energetically shook her way across the stage. And while her moves were loud, her music was even louder.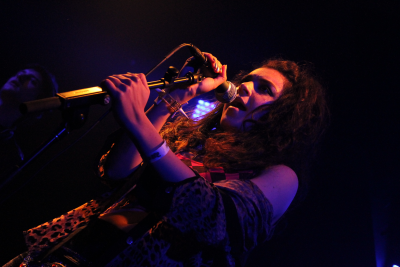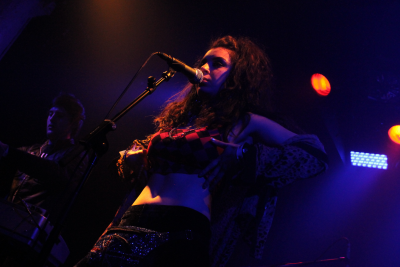 Charli's set was brimming with harrowing melodies, throbbing bass, surging synths, and dark beats, her vocals sometimes sweet and soaring, unaltered, and other times brooding and echoing through the vocoder, and other times screaming with all the seasoned rage of a riot grrrl.
As far as tracks went, the melodic industrial apocalyptic pop song "End of the World" was one of my favorites, with slapping synths and mellow beats that allowed Charli's voice to stand center stage. "Stay Away" was another favorite and popular among the crowd, many of which were there to see Charli perform. The synth-pop track twinkled and slow-throbbed, Charli singing emotionally over top, her voice pleading and reaching.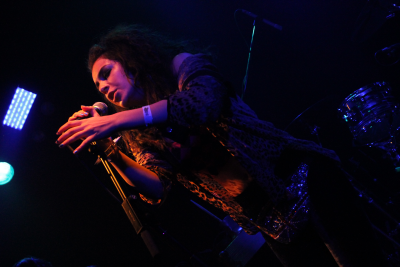 Other tracks performed were "You're The One," "Set Me Free," "How Can I," and anxiety-ridden closer "Mess," all dark, electronic pop gems to which Charli thrashed and flailed, recalling the new-wave and pop of the early 80's. But it was the electro-gothic single "Nuclear Seasons" that was the fan favorite of the night. Charli seemed to feel right at home during the dark new-wave track, and the crowd was more than eager to single along to the catchy, brooding chorus.
After her set, I caught up with the lovely British teen for a quick "hello" and some photos. During our conversation, I asked about her upcoming American EP, which she said will be released sometime in May. And I can honestly say that after seeing her live for the first time, May can't come soon enough.