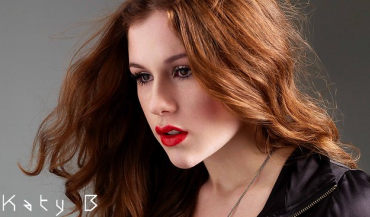 What do you get when you cross-pollinate the street swag of early Lily Allen, the twinkling electro pop of Ellie Goulding, and the 90's urban-rave aesthetic of Crystal Waters? Why, you get the UK based dubstep/dancehall Queen Bee herself, Katy B! And the crowd was certainly buzzing last night as Katy hit her last US stop on tour at hip downtown lounge Drom in NYC.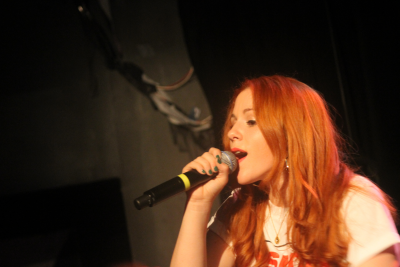 The adorable redheaded dance-pop princess, whose debut album 'On A Mission' blew up last year with its electro, funk-house, and dubstep influences, was all smiles throughout the night as she took to the small stage in front of a crowd of fans eager to dance until the lights came on.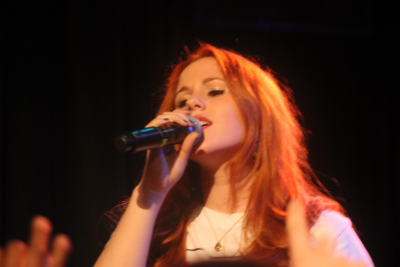 Katy kicked off her set with "Louder," one of my favorites off her album, and the crowd was more than happy to give Katy what she wanted, literally getting louder and louder as the pint-sized pop star bounced around the stage.
The tiny powerhouse blasted through an electric set that included fan favorites like girl anthem "Easy Please Me" and "Broken Record," playfully chatting with the audience and even throwing out free merchandise into the crowd. Memorably, "Witches Brew" was just as mesmerizing live as it is on the record, and Katy clearly had everyone under her spell as she crooned through the witchy, twinkly electro-pop track.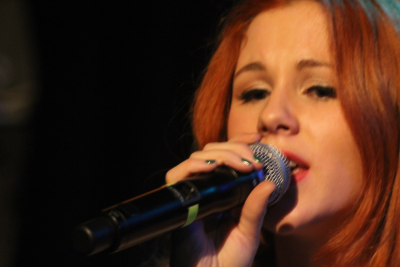 The chanteuse slowed things down a bit on soulful r&b-tinged tracks "Power On Me" and "Disappear," but the night was far from low on energy, especially when Katy launched into dance-funk club hit "Lights On," Katy commanding the stage with ease and encouraging the obedient crowd to dance.
Finally, Katy closed her set with the track that started it all, hit single "Katy On A Mission," to which the crowd went absolutely wild, singing along passionately, and which Katy performed with bonafide pop star swag, thanking the crowd excitedly for purchasing her album and dedicating the song to all of her supporters. Katy capped off the night by sweetly thanking the crowd again, blowing kisses to her fans, and telling the crowd to "get home safe!"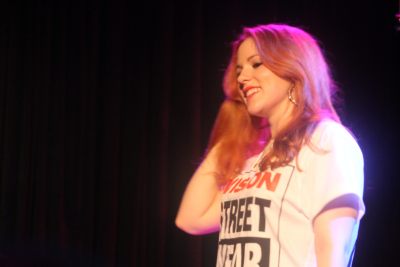 Despite the small stage and intimate lounge venue, Katy B put on an extremely electric show, with naught but a DJ and charming MC backing her up throughout the night. She bewitched the crowd with her adorable personality, energetic stage swag, explosive dance-pop catalogue, and her very impressive vocal chops. If you have a chance to check her out live, I highly recommend you do so!