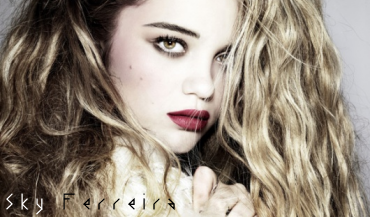 Electro-pop's resident princess-in-waiting
Sky Ferreira
, whose debut album has been long-awaited, surprised anxious fans tonight with a brand new track (well, actually, according to her Facebook page it's really an old demo she's never been able to release). The untitled as-of-yet track that for now we're going to call "We're Dymanite," based off the explosive chorus, is a bouncy, shiny, indie-tinged synth-pop jam with an infectious, tropical beat and chanting bits that will have you dancing in the sun! Check it out below:
Sky Ferreira - Untitled/We're Dynamite
Sky also revealed tonight that her debut album is finally due out come 2012, with a single set to launch early Spring. Unfortunately, the pop starlette also revealed that the direction of the album will be in a much "different direction" than this untitled track - a sad confession to hear considering how amazing and addicting this song is! Hopefully, Sky won't stray too far from her dance-pop leanings altogether. But either way, she's a talented force that will no doubt release incredible music, no matter the genre or sound!
Visit Sky Ferreira online
here
.