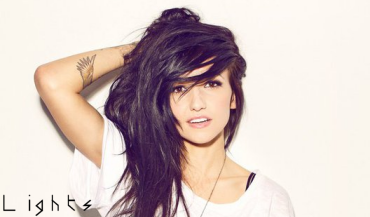 Since her debut in '09, Canadian electro-pop artist
Lights
has lit up like a firework and skyrocketed, with countless sold-out tours, collaborations, remixes, single releases, and an acclaimed acoustic EP. And yet, even with what seems to be a non-stop bout of activity for the tireless singer-songwriter, almost two years later to the day Lights has managed to release a gem-filled treasure-chest of a sophomore album.
In short, '
Siberia
,' released October 4th, finds Lights a changed woman. Altogether, the lyrics are more poetic, the artist more certain of herself, and the production more raw. Gone is the cotton candy synth-pop of her previous album, and in its place is a record brimming with experimental, gritty electro-rock - with just a light dusting of sugar on top to sweeten the deal.
The album kicks off with the titular track, "
Siberia
," a chilly, fizzy electronic lo-fi jam that hints coyly at the gritty undertone of the rest of the record. Here we find Lights' glossy, candy-coated vocals once again, but this time not bouncing atop an equally glossy synth-pop ballad, but instead woven melodically through a heavily distorted mid-tempo bass-line.
"
Where The Fence Is Low
" finds the pop starlet in familiar territory at first, with a sparkling intro and emotionally-driven lyrics that hearken back to her first album. But suddenly the track surrenders into a heavy crescendo of gurgling, throbbing beats. The song comes to a head during an epic breakdown where beats clash, Lights' ever-pleading vocals soaring overhead, and ends with a very cool drum outro.
Up next is "
Toes
," the lead single off 'Siberia,' and with good reason: With a twinkling intro reminiscent of "Saviour," the toe-tapping track nestles into a comfortable, yet exciting balance between polish and grit, a crown-jewel of electro-pop found within the trove of the album. A stomping beat anchors the track, and sing-along lyrics solidify "Toes" as a proper hit.
"
Banner
" begins with a bubbling 8-bit synth-line that builds into the swirling, upbeat melody that follows the rest of the track. Much like the object the track is titled after, "Banner" raises higher and higher until the chorus, where Lights' swaying vocals explode as she cries out: "Like a banner!" It's a quietly epic track which relies less on big beats and more on soulful lyrics, anthemic progression, and a head-bobbing melody.
Twinkling synths fade into glitchy, industrial beats on hip-hop inspired "
Everybody Breaks A Glass
," one of the more experimental tracks on the record, featuring a dub-step breakdown mid-track, along with an even bigger surprise: a rapping interlude by Canadian rapper Shad. The rap is a big shock for Lights' fans and is slightly disorienting at first, but Shad skips the club-references and instead delivers appropriately emotional material that fits in surprisingly well with the overall tone of the song.
A relaxed r&b drum-line kicks off "
Heavy Rope
," which features some of Lights' most poetic lyrics to date. It's an understated, emotional track that plays a little sleepy, but is a welcome break in the glitch and grit of the rest of the album, allowing the artist's inspiring vocals to shine unaltered and unhinged.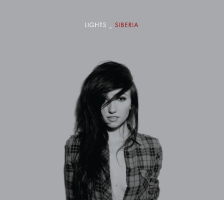 A short and sweet music-box synth starts off "
Peace Sign
," which quickly evolves into a playful, zippy electro-hippie pop song. It's an upbeat, happy track that plays much like a quirky, dancey pop-rock jam, with a jump-on-your-bed melody that will have you smiling and signing along instantly.
"
Cactus In The Valley
" is a wistful electro-lullaby which finds Lights cooing breathily over a sleepy, echoing beat. It's a quiet, thoughtful ballad that skips the dance floor entirely and flips the focus back onto the artist's achingly emotional vocal chops and lyrical poetry.
Glistening synths drive the beginning of my favorite track, the expertly produced "
Suspension
." An epic trance-bathed club-track, "Suspension" sounds like something that would play at the climax of a robot apocalypse. Throbbing, industrial synths build until the massive dubstep breakdown that the track has been hinting at. Lights' vocals are haunting here, almost detached from the seams of the music entirely, as if she is floating away or simply, perhaps, "not close enough."
"
Flux and Flow
" starts with a wobbling, static bass that follows the rest of the track, coming to a climax nicely during the high-hitting chorus. Again, hip-hop artist Shad is featured during a slightly awkward, but still welcome interlude. It's a slower jam that speaks to a sense of give and take, a theme that is reflected musically throughout the heavy, up-and-down melody of the song.
A mildly gritty beat defines "
Fourth Dimension
," a slow electronic song that falls a little limp at first when compared to the bangers found through the album as a whole. Luckily, the track finds its feet midway through a very inspired dubstep breakdown, the beats melting into a puddle of thick and gooey whomps and wonks, testifying again to a certain level of experimentalism on the record.
Next up is "
And Counting…
" which features a humming synth-line and mild vocals that fail to fluctuate, though fit well with the tone. It's a pretty, wispy song that sounds somewhat like a digital lullaby, with light touches of an Imogen Heap vibe, but it can also sound a bit repetitive and tends to flatline after the first minute or so.
The album closes with "
Day One
," a nine-minute musical experiment that seems to take every influence off 'Siberia' and clash them together in a gurgling symphony of electro noise. It's an eerie piece that sounds almost like the buzzing hum of a chapel organ, slowly progressing into a blipping, beeping robo-urban soundscape. Though grating after a while, it's quite interesting and definitely worth a listen. It's a special track that closes the record well and, in a way, poetically.
Ever-changing and ever-evolving, Lights never manages to amaze with the progression she is capable of as an artist, whether musically, vocally, or lyrically. Fusing the melodic glimmer of pop, the raw power of new-wave rock, the excitement of electronica, and the glitchy imperfection of dubstep, she has created a whole new world on her second album, one listeners should be eager and open to explore. Just two years after 'The Listening,' it seems our electro chanteuse has floated away from her celestial, spacey synth-pop origins, and has found herself back down to earth in gritty 'Siberia.' And it's a great place to get banished to, if you ask me.
'Siberia' is out now on Last Gang Records. It's available in stores and on iTunes. Visit Lights on the web
here
.