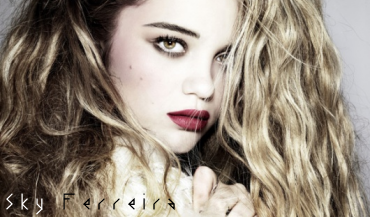 A few weeks ago, I made my way out to Teen Vogue's super fun SoHo block party held on Thursday, September 8th, for Fashion's Night Out. Amidst the red-carpet glamour (like an appearance by the gorgeously in-shape Ciara) and mingling with Teen Vogue editors, I was able to check out up-and-coming electro-pop artist Sky Ferreira in an exclusive performance!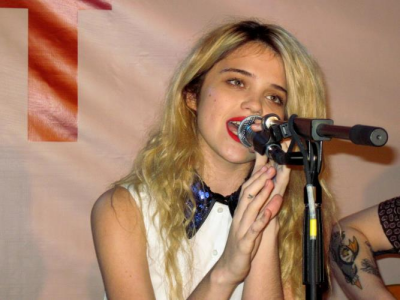 Dressed in a fresh white tank blouse, high-waist black skirt, and fun sequin bow collar, the young pop starlet wooed the equally young crowd of chic teen fashionistas with a short but appetizing acoustic set including one cover song and two unreleased tracks. Simply armed with a microphone and a guitarist at her side, the blonde bombshell cooed her way through each track, giggling and smiling to the crowd nervously between songs.
Though the synth-pop princess-in-waiting is known for her edgy, bubbly brand of electronica-tinged pop music, it was refreshing to hear the pouty teen's surprisingly soulful, stripped down performance, which truly showed off the beautiful range in her voice. First, Sky launched into a lovely rendition of John Frusciante's "The Past Recedes," followed by two original, unreleased tracks tentatively called "Ghost is Gone" and "The Werewolf Song," the latter of which I can't wait to hear a studio version of.
Though a short set, Sky gave just enough to pique the audience's interest and prove that even without the lush electronic soundscapes, she is a pop force to be paid attention to. Naturally, I can't wait to see and hear what Sky has in store for the future - and hopefully that will include many more performances!