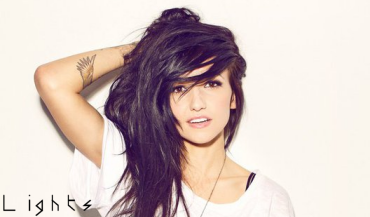 Canadian electro-pop cutie
Lights
is finally back with a new song! Grittier and glitchier than Lights' previously polished pop stylings, "
Everybody Breaks A Glass
" is the gnarly new single from the synth songstress. Featuring production efforts by hip-hop artist Holy Fuck and a rap interlude by Shad, the just-dropped track ventures into new territory for Lights, with heavier, dubstep-influenced production and static-shock synths that lend an edgy aesthetic to the track. It's a big, bold step for the artist which proves that Lights and her music is indeed in a state of flux and exciting evolution, just as it should be.
Perhaps to highlight the darker tone of the new music, Lights has released alongside the single a self-made and hand-drawn lyrics video for "Everybody Breaks A Glass," with an edgy Old Hollywood noir-inspired storyline that fits the track perfectly. Check it out below:
Visit Lights online
here
. "Everybody Breaks A Glass" is off Lights' upcoming as-yet-untitled sophomore album, and is available in single form on iTunes now!