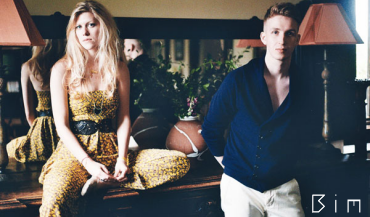 Listening to the relaxing, ethereal synth-pop of London-based girl/boy duo
Bim
is like taking a big bite of home-made apple pie: It is at once warm, sweet, and familiar, at times beckoning certain and comforting emotions. In theory, Bim is apple pie.
With their soothing sing-a-long melodies and sweet harmonies, Bim creates mellow, heartfelt electro-pop chock full of sweeping lullaby vocals and emotion, evoking a calm sense of romanticism and hopefulness within each song. Airy eighties-style, swirly electronic beats and relatable, wistful lyrics lends to the duo's effortless indie sensibility and pop appeal, while the vocals of Rebecca and Tim mesh together seamlessly in both song and ballad.
Luckily for those with a sweet tooth, the band has just released their delicious and highly-anticipated debut album, '
Scatterheart
,' which you can currently download on iTunes. I highly recommend checking Bim out
here
on MySpace and on the web
here
. Bon appetit!