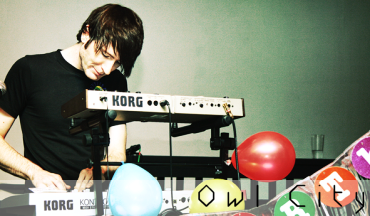 His name is Adam Young - and he's the singular boy behind the skyrocketing one-man electro-pop show known as
Owl City
. Young, whose career slowly began to mold when he began creating music in his parents' basement, performing under the name Owl City, released his signed 12-track sophomore album,
'Ocean Eyes
,' on July 28th to fantastic reviews and sales.
The sweet synth-pop album sounds a bit like what you might get if you mixed LIGHTS, Metro Station, and Hellogoodbye... Aka: There's tons of airy metaphors, romantic lyrics, shimmery electronic melodies, and energetic beats.
'Ocean Eyes'
- which stays true to its name, as the lyrics throughout the album feature a plethora of under-water references - opens optimistically with "
Cave In
," an electro-pop song with sweet, moody lyrics backed by sparkly, upbeat beats. Next we hear "
The Bird And The Worm
," a sugary, indie-pop tune featuring more piano and guitar than synths. It's cute, albeit my least favorite track on the album.
The third track on the album is "
Hello Seattle
," a fan-favorite rife with a slowly building electro melody and poetic lyrics that literally paint a watercolor mood of romantic, natural scenery. "
Umbrella Beach
" is the next track, a pulsating dance track with a fun synth-pop beat and 8-bit melodies scattered throughout.
Next comes "
The Saltwater Room
," one of the sweetest and more mellow love songs on the album, featuring beautifully executed vocals by Breanne Duren - often mistaken vocally for LIGHTS - as Young and Duren serenade each-other on this airy, indie-pop duet. Young then shows his humorous side on "
Dental Care
," a cute, upbeat, and silly track about, well, a trip to the dentist! With witty lyrics and a light-hearted beat, this track will definitely make you smile.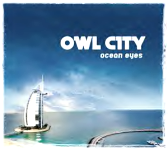 "
Meteor Show
" opens slowly with a soft, celestial melody, but soon flowers into a shimmering, big track with heart-felt lyrics, despite its short length. The coolest track on the album, however, comes next on "
On The Wing
," a perfect electro-pop love song with a slow-build, sweet, poetic lyrics, glistening synths, and light, throbbing beats.
The leading single of the album is "
Fireflies
," a powerful, imaginative pop song with dreamy lyrics full of tons of fantastical imagery, a radio-friendly beat, and an addicting, sparkling melody. Next opens "
The Tip Of The Iceberg
," a winter-themed tune featuring cool, sweet lyrics and a warm electronic melody that keeps the song from turning cold as it builds into a pulsating dance track.
The slowest track on the album comes in the form of "
Vanilla Twilight
," another love song with some 80's synth influence that takes its time to build, but eventually blooms into a deeper, more beat-heavy song. We come to an end on "
Tidal Wave
," an optimistic track about courage that starts loud and keeps up the pace with an upbeat, fun electro beat that skips along happily and brings the album to a close on a very good note.
All in all, Owl City's latest offering, 'Ocean Eyes,' is without a doubt a beautiful, romantic album full of sweet lyrics, imaginative metaphors, wonderous, sparkling melodies, and upbeat dance tunes. It is the perfect summer soundtrack and I'm certain it will be full of many hits!
Rating
:
8/10
Visit Owl City on MySpace
here
. You can purchase 'Ocean Eyes' on iTunes
here
.