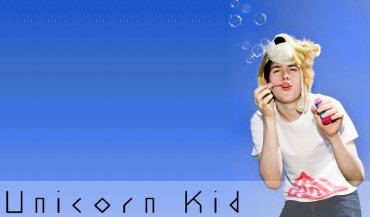 You may not ever live to see a unicorn. But if you have ever wondered what a unicorn might sound like, well, apparently the fantastical beast would sound like electro!
Unicorn Kid
, whose real name is Oliver Sabin, is a 17 year old boy from Scotland who creates perfectly blended, colorful electro-pop tunes.
Recently he released his newest single, "
Wee Monsters
," on iTunes and in CD format. If you're looking for perfectly happy, upbeat techno-pop that'll get you dancing - or at least bobbing your head while you drive - download this now! It's sunny, adorable, and chock full o' sweet synths and pulsating techno beats. Magical horn, unfortunately, not included.
Check out the adorable Unicorn Kid on MySpace
here
. You can purchase the new single on iTunes by clicking
here
.