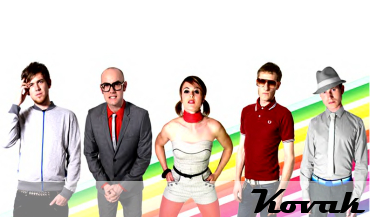 Meet
Kovak
: A colorful, five-person indie electro-pop band hailing from the U.K. If you could mix a bit of Little Boots, a spoonful of Aqua, a pinch of Ultraviolet Sound, a dash of The Ting Tings, a drop of Sohpie Ellis Bexter, and some melted Freezepop all together in a big vat of electro-disco stew, you'd end up with this deliciously fun band. Fronted vocally by the energetic (and equally adorable) Annelies Van De Velde, with five cute, sharply dressed blokes to back her up, Kovak is an explosion of shattering disco ball glass and blinking rainbow strobe lights for the ears - a complete dance party for the soul!
A little more disco than synth-pop by nature, Kovak is responsible for some shamelessly bright and shiny electro-groove tracks on their debut album, 'Heroes
and High Heels
,' which you can purchase
here
for a limited time. Electrifying tracks like "I Love the Dancefloor" and "Electric City Lights" prove that this band's songs could easily burn up DJ playlists everywhere from hipster clubs to glamorous discoteques. Their sound is so unique and yet so universally appealing that I'm surprised they haven't been tapped for an iPod or Nissan commercial yet!
Just to prove how fun this band really is, here is the official music video for "I Love the Dancefloor..." Don't you just wanna hop into your rainbow-striped 70's jumper and vintage roller-skates? Let's disco!
By the way, you can download the band's latest single, "I'll Be Good To You," for FREE come July 13th!
Visit Kovak
here
on MySpace or click
here
to go to their official Web site!