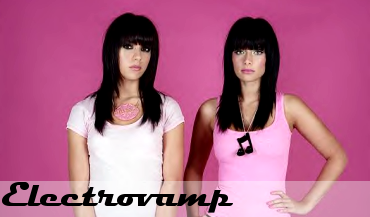 For the past two years, it would seem that sexy, sassy Welsh techno-pop/dance group
Electrovamp
(sisters Tammy and Kally) has been releasing one electrifying new single per year, starting with "I Don't Like The Vibe In The VIP" in late 2007 and "Drinks Taste Better When They're Free" in late 2008.
Since their highly-anticipated debut album still has no soon release date in sight (yet), it would only seem befitting that Electrovamp would grace its fans with a 2009 single. And if you are one of those impatient fans, you can now go check out the 30 second sneak-peek clip of "
Something To Tell Your Friends About
" (no, seriously though, what's up with the super long song titles?), the upcoming explosive third single from the dance-pop duo, posted on their MySpace page. It's a sexy dance-floor ass-shaker pop song that fits right in with the sisters' former singles. Hopefully, the full-length version will drop soon and you'll be able to download it on iTunes!
If you don't know who Electrovamp is, educate yourself on their MySpace
here
!