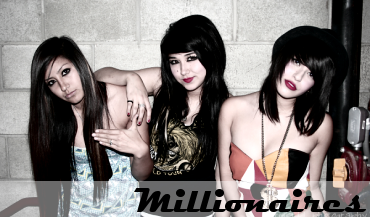 Millionaires
- the hot, three-girl electro-crunk/scene-pop group - has just released their club-bound, potty-mouthed, and deliciously fun 5-song EP titled, '
Just Got Paid, Let's Get Laid
.' It is available on iTunes for only $1.99. But for those of you who, like myself, just need to have that newly plastic-wrapped CD case in their hands to really enjoy a record, you can catch the limited-release physical CD at their merchandise booths at Warped Tour this summer.
To coincide with the first club-stomping single - and title track off the album - "
Just Got Paid, Let's Get Laid
," the girls have also just released this sexy, fun director's-cut music video. If you're looking for that perfect summer dance-party track, check it out now!
Millionaires - Just Got Paid - Director's Cut
From what you can see/hear, Millionaires' music is not for the faint-of-heart or for the serious-of-mind! This is just flashy, good old fun, doesn't-take-itself-too-seriously, sexy, scene electro-pop for people who enjoy the likes of Cobra Starship, 3OH!3, and Ultraviolet Sound.
You can check out more about the Millionaires
here
on MySpace. Catch them on the Warped Tour this summer!