A few years ago, I made my way to the CMJ festival in Manhattan to catch a tiny little up-and-coming electro artist at the New Zealand showcase. Needless to say, I was blown away. The pint-sized sprite I had come to watch was a powerhouse on stage, with a massive voice, punk-rock attitude, and killer thrash-dance songs to boot. I was hooked on Zowie automatically.
I've followed her career since, and boy, has it exploded! A few magazine shoots, tours with mega pop-stars, and Perez Hilton features later, Zowie's debut album has finally dropped. And to celebrate the release of the killer electro-punk record, I caught up with my girl to discuss her journey, her musical roots, her new music, and much more. Check it out:
Hey, Zowie! Thanks for taking the time to chat with Electrocutie. How are you?
Thanks for having me! I'm great, thank you. Can't believe It's been about 1 1/2 years since I met you in NYC at CMJ for our show!
For those who maybe haven't discovered you just yet, how would you like to introduce yourself?
Why hello there! I'm Zowie - a drummer, singer, rapper, song writer from the year 3000. Check out ma' music!
Back in the day you were known as Bionic Pixie. How has Zowie evolved or changed from that era of your career?
Zowie was morphed from Bionic Pixie and Zowie is still a Bionic Pixie but it's like she has been given a name. So I still play some Bionic Pixie songs, It's still VERY Bionic Pixie. I think the way things have changed is I've become a lot more confident with my song writing, Zowie has released an album now, Zowie is a stronger character all around a bit cheeky!
Just about a year ago you were the supporting act for Katy Perry in NZ. What was that experience like for you? How do you think it has impacted your career?
That was amazing. We played 11 shows with her through NZ and Australia. It impacted us hugely, our fan base just went up by thousands and it was such a big learning experience. Katy & her whole crew were amazing and so supportive, we still talk to them. Behind the scenes was just as exciting as being on stage or watching the show.
Your debut album has just dropped in NZ this past month, and it is totally killer! It seems like this has been a long time coming for you. How are you feeling about the release of 'Love Demolition?'
Thank you! It feels surreal to have it out. I am SO proud of it. It was about a 1 1/2 years working on it, The response has been amazing. I got excited when Pop Justice already named it one of the best albums of 2012!
Will the record be receiving an international release sometime soon?
We're just in the process of working out where/when it will be released. Can't WAIT!!!
Is there a standout or favorite track on the album?
That's like picking a favorite child!! I honestly really love them all for different reasons. I think in 6 months time I'll be able to pick a favorite as I'll listen to the album in a different way. I've noticed lots of our fans favorites haven't been just one song, everyone's favorites have been different which is cool!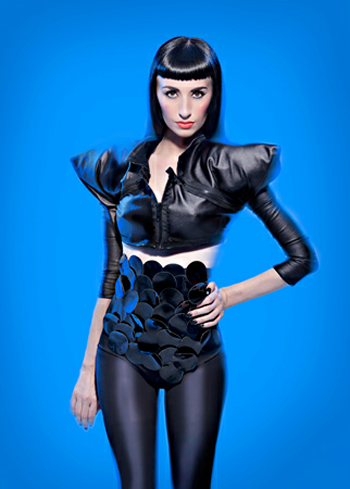 You have come such a long way since releasing "Broken Machine," which has such a sweet, upbeat, pop sound. Some of your newer material ("Smash It," for instance) is a little harder, maybe more powerful in its attitude. Does that make sense at all, for you?
For sure, that heavier side to music has always been my favourite. Bands like Nine Inch Nails, Gary Numan and Marilyn Manson are some of my favorite acts so I naturally like darker stuff . It had always been in me with older tracks like Quit Breathing. I like dark and pretty but not just one or the other. It's a mixture of heavy and pretty on the album for sure.
What has your creative process been like while recording 'Love Demolition?' Did you collaborate at all or record in any unusual settings? I wrote with many people on the record, generally just one other on the each song. I had an amazing time writing the album. Sweden really stood out with one of the writers Jonas Quant as we recorded samples in a super fun way. Slamming doors, opening cat food that kind of thing.
I also heard that your dad's guitar playing is featured on the album - that's so cool! Do you come from a musical background? How has your family supported you throughout your journey?
He really is an amazing musician and has always been so future forward with his thought process in music so I always knew I'd have him involved in some way. His playing I just love. My Mum and Dad are both really supportive, but I've always known music is a path I'd go down so they've known forever and it's all I ever wanted to do. I for sure have hobbies but music is where my head has always been at.
I've heard that you play drums. How has knowing that instrument influenced your music or approach to creating music, if at all?
100% it's my main love. Drumming & rhythm were really important elements to me to help shape this record. The beat has to be interesting to me. It's generally how I use to start my songs when writing, by humming a beat and recording it down. I listen to everything in a super rhythmic way - vocal lines, guitars, keys lines.
Your music has a very cool synth-pop vibe, with touches of rock, new-wave, and pop thrown in for good measure… What or who has influenced you in crafting your sound?
I've really shaped it how I want it to sound but I've always been influenced by certain artists that have helped craft what my ears like. It's everyone from Nine Inch Nails to Peaches to Prince. I like so many styles that I wanted to make the album interesting without a tunnel vision for what style it was but instead many things I dig all mashed into one.
You have a killer personal style! What inspires your sense of fashion and your amazing outfits?
Why thank you! Fashion is so much fun. My parents both have an amazing dress sense so I wear loads of stuff they use to wear in the 80's and 90's. Just wacky, crazy pieces mixed with dark items and punk clothing but then cute stuff too. Anime and cartoons really inspire me.
You also seem to be a very visual artist, with the way you dress and your music videos. What inspires your visuals and aesthetic?
With my music videos I always have an idea of the kind of theme I might want to try vibe wise, but I also love collaborating so I work closely with the directors and see what vision they have for the videos so they feel free to experiment too. I don't like to make videos that I feel like I've seen before. Working with both Special Problems and Garth Badger (who are both NZ based video directors) has been great.
You've been very in touch with your fans over the past few years through social media, whether on Facebook or Twitter. How do you feel about your fans and the importance of keeping in touch with your fanbase? I hear you also have a special nickname for them…
The least I can do is take 2 seconds to answer them when I can, these are the people who come to your shows and help spread the word. It's so cool. I'm super appreciative of them. And yes, they made up the nickname Z-BOTS! So killer!
What does the rest of 2012 have in store for you? Any plans to tour?
I'm not too sure yet but I'm super eager to tour and tour so hopefully loads of that!! Looking at the States for later in the year.
Congratulations on an incredible debut album and an exciting career ahead! Is there anything you'd like to say to your fans before we sign off?
Thank you so much!! Just want to say thank you to all of them, it's going to be a fun journey!
Thanks so much to the lovely Zowie, her management, and to Jess for arranging the interview. Please visit Zowie online here and on Facebook here.