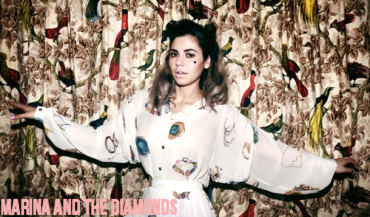 "Got a figure like a pin-up, got a figure like a doll/ Don't care if you think I'm dumb, I don't care at all/ Candy vest, sweetie pie, wanna be adored/ I'm the girl you die for," Marina coos aggressively during the opening of "Bubblegum Bitch" and the track that opens '
Electra Heart
,' the sophomore album from Greco-Welsh
Marina and the Diamonds.
Swathed in several layers of pink froth, twinkling synths, and heartbreaking love songs, the 'Electra Heart' era Marina (or perhaps her alter-ego archetype Electra) is a much different Marina than the one we met on 2010's quirky, piano-driven indie-pop record 'The Family Jewels.'
Though 'Electra Heart' still embodies the same honesty, poetic-lyrical storytelling, and pop-culture-minded sense of humor that made her debut so memorable (and lovable), Marina is much more theatrical, lavish, and cutting on her electronica-tinged sophomore effort, brutally exploring the more uncomfortable sides of love (and her love life) as if she were performing open heart surgery on a pop star.
So far, 'Electra Heart' has been well received both here in the US and abroad (including her UK home), spawning several sold-out tours, opening acts for the likes of Coldplay, various television appearances and performances, and legions of lovestruck new diamonds (read: fans). To celebrate her incredible success and incredible new record, I had a little chat with the lovely pop star about what it was like making 'Electra Heart,' breaking the US, her upcoming single "How To Be A Heartbreaker," and more!
Thanks so much to the super sweet Marina, her management, and to Catharine at Atlantic Records for arranging the interview. Please visit Marina and the Diamonds online
here
and on Facebook
here
, and be sure to catch her on her current tour, The Lonely Hearts Club Tour!