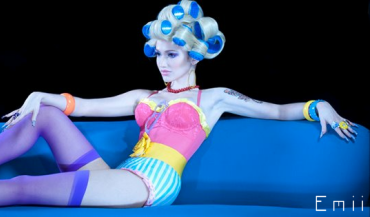 Sultry pop siren
Emii
, whose late 2011 smash "
Stilettos
" took the traditional love song to whole new heights - "Stilettos" is about "a girl, a boy, and her shoes" - is known for her sexy brand of carefree four-on-the-floor electro-pop.
The stunning LA-based dance diva's ode to her heels has resonated in clubs and at parties around the globe, and now the throbbing single has been given the remix treatment, compliments of
Monikkr
. With a wobbling dubstep breakdown and surging synths, the exclusive Monikkr remix takes Emii's "Stilettos" and has given it a dark new club-ready spin.
Take a listen to the exclusive "
Stilettos (Monikkr Remix)
" below. But first... Put your stilettos on and dance!
Emii - Stilettos (Monikkr Remix)
If you want a pair of Emii's "Stilettos" for yourself, don't forget to enter your email into the widget below for an exclusive free remix download. Enjoy!
Visit Emii online
here
for more music and info!