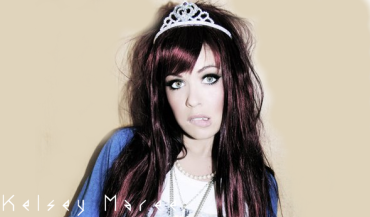 Stomping beats. Soulful voice. Addictive pop. The urban dance-pop of colorful Australian-American singer
Kelsey-Maree
includes all of this and more. The gorgeous electro-pop up-and-comer creates feel-good, sometimes emotional electronic urban-pop. With sonic influences that reference R&B, dance, techno, and bubblegum pop, Kelsey-Maree's music may seem to be all over the map, but it's her warm, soulful voice that feels just like home.
"
It's Love
," which was featured on the hit video game 'Audition,' is more of a dancefloor stomper, with soaring synths, throbbing electronic beats, and euphoric lyrics about an indescribable love:
On "
La La La
," also for 'Audition,' Kelsey-Maree sticks to the dancefloor, but the beat is darker and edgier:
"
Diamonds and Pearls
" brings more of the urban flavor, with touches of R&B and sweet, upbeat synths:
Kelsey-Maree is currently working on new material, as well as filming for her new music video, so stay tuned for more on this lovely rising artist! Visit her on Facebook
here
or YouTube
here
for more information and more tracks.