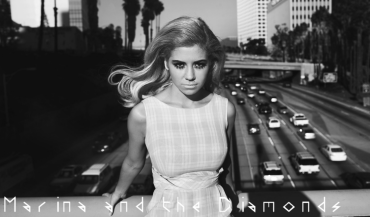 Marina and the Diamonds
is gearing up to release her highly-anticipated sophomore album,
'Electra Heart,'
due out on April 30th. The British singer-songwriter, who has been recording in both London and LA, is hard at work finalizing tracks for her new LP, and so far the following tracks have been suggested: Primadonna, Bubblegum Bitch, Lies, Power and Control, Homewrecker, Starring Role, The State of Dreaming, Living Dead, Sex Yeah, Valley of the Dolls, Hypocrates and Fear and Loathing. Also promising are the producers and collaborators Marina has been working closely with, including Dr. Luke (Katy Perry), Rick Nowels (Madonna), Liam Howe (Sneaker Pimps), and Greg Kurstin (Lily Allen).
In a recent press release, Marina says of the new album: "It's an Ode to dysfunctional love. I based the project around character types commonly found in love stories, film and theatre, usually ones associated with power and control in love, as opposed to weakness or defeat. I guess it was a way of dealing with the embarrassment that, for the first time in my life, I got 'played'. Rejection is a universally embarrassing topic and Electra Heart is my response to that. It is a frank album."
Preceding 'Electra Heart' will be "
Primadonna
," lead single off the upcoming record and set to drop on April 16th. A preview of the track and video should be out sooner, so keep your ears and eyes peeled!
If you'd like to learn more about Marina and the Diamonds or check out her upcoming tour dates, be sure to visit her web site
here
.