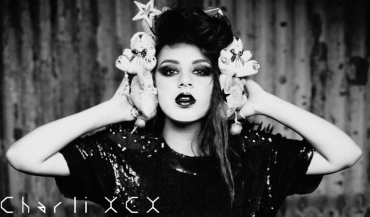 London electro-goth artist
Charli XCX
was feeling the love for her fans this past Valentine's Day when she dropped exclusive download track (and aptly named) "
Valentine
" on February 14th. Unfortunately, the track was taken down the next day, but you can still find a download or two floating around online if you love what you hear. Check out the whimsical, lovelorn synth-pop track about an awkward crush below:
Charli XCX - Valentine
How on the sonic heels of "Valentine," another new track called "
I'll Never Know
," which was recorded in the Red Bull Studios for the Catwalk Studio Project during fashion week, debuted today. The recorded track is a quirky, rushing explosion of tropical maraca shakes and bubbling synths that result in a uniquely infectious, jungle-electro-pop track. Take a listen:
Charli XCX - I'll Never Know
Visit Charli XCX online
here
!